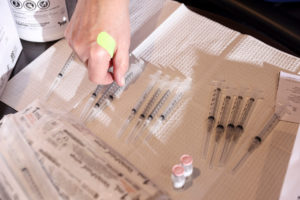 Healthcare Worker Is Hospitalized After Getting Allergic Reaction To Coronavirus Vaccine
Not good, not good.
A healthcare worker from Alaska has been hospitalized after they got a severe allergic reaction from Pfizer's coronavirus vaccine.
The reaction reportedly kicked in 10 minutes after the healthcare worker got the vaccine shot.
According to a report by Dr. Lindy Jones, an attending physician at Bartlett Memorial Hospital, the healthcare worker, who is a woman, got the vaccine and took an antihistamine.
The worker reported shortness of breath, said Dr. Jones.
As a result, the woman was taken to the emergency room, where doctors observed an elevated heart rate and even developed a rash on her face and torso.
During a news briefing about the incident, Dr. Jones said:
I was concerned about an anaphylactic reaction so gave her the standard treatment of a dose of intramuscular epinephrine and she responded immediately.
Pfizer released a statement about the incident.
The statement said:
We don't yet have all the details of the report from Alaska about a potential serious allergic reaction but are actively working with local health authorities to assess. We will closely monitor all reports suggestive of serious allergic reactions following vaccination and update labelling language if needed.
The company said that the vaccine comes with a warning that appropriate medical treatment and supervision should be available in case of a rare anaphylactic event after the vaccination.
Dr. William Gruber, senior vice president of vaccine clinical research and development at Pfizer, released a statement about allergic reactions.
The statement said:
Amongst the 44,000 subjects, we saw no serious allergic reactions to the vaccine. Within the clinical trial we've actually not seen evidence to suggest a signal related to an allergic reaction to the vaccine.
The worker that got the vaccine does not have any history of allergies to vaccines.
Also, she has recovered from the reaction.
She also spent 1 night in the intensive care unit.
Despite getting the reaction, the healthcare worker is still looking forward to getting the benefits of the vaccine.
Chief Medical Officer Dr. Anne Zink released a statement about the reaction.
The statement reads:
We expected that a side effect like this could occur after reports of anaphylaxis were made in England after people there received the Pfizer-BioNTech Covid-19 vaccine. All sites that are approved to provide vaccinations in Alaska must have medications on hand to deal with an allergic reaction and that was the case in Juneau.
What are your thoughts about this vaccine reaction? Let us know what you think about it by leaving a comment in the comments section below!