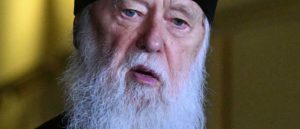 Religious Church Leader That Blamed Gay Marriage For Coronavirus Now Has The Deadly Disease
A church leader from Ukraine that said that gay marriage was to blame for the coronavirus has now contracted the deadly disease himself.
91-year-old Patriarch Filaret is currently in a hospital. He was rushed to a medical facility after testing positive for the deadly disease.
He is currently getting treatment for the disease.
On Facebook, a statement was shared and it confirmed the diagnosis.
The statement reads:
We inform that during planned testing, His Holiness Patriarch Filaret of Kyiv and All Rus-Ukraine tested positive for Covid 19. Now His Holiness Bishop is undergoing treatment at a hospital.
Back in March this year, the 91-year-old church leader said that the coronavirus pandemic is a divine punishment that got released on us as a result of sins.
He repeatedly mentioned same-sex marriage.
The patriarchate said that they currently have over 15 million followers, the entire country of Ukraine has 42 million people.
When Filaret made the controversial comment on social media, Insight, an LGBT+ group from Ukraine, sued him.
Insight's head Olena Shevchenko said:
Our aim is to show people that there is no longer place for such statements from church leaders in Ukraine.
Such hateful comments lead in increased aggression, attacks, and discrimination or acceptance of violence against a certain community.
Homophobia is currently decriminalized in Ukraine, however, same-sex marriage is still illegal in the country.
In 1991, homosexuality was decriminalized.