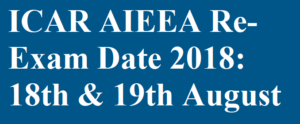 ICAR AIEEA Re-Exam Date 2018, Offline Exam On 18th & 19th August
ICAR AIEEA Re-Exam Date 2018 out. Indian Council of Agricultural Research will organise the All India Entrance Examination For Admission on 18th and 19th August. Earlier, the test was conducted using online mode on 22nd and 23rd June. But, on July 12th, an official notice issued according to which, the exam was being cancelled. But, when it would be held was not clarified.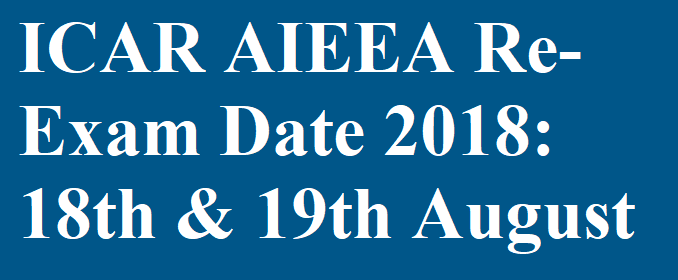 ICAR AIEEA Re-Exam Date 2018
Earlier, the council managed the examination using the online mode but, on 24th July, a new notice released notifying for the re-arrangement of the test. But, this time, the examination is going to be held offline at 56 examination centres all over the country.
Note: The test will be conducted again but, only those will be allowed to appear for the test who had applied successfully for the online exam. No new applications will be accepted. The online registrations for the entrance test were permitted to be made from May 18th and lasted until 13th June.
23rd All India Entrance Examination for Admission 2018 was cancelled due to the many setbacks proclaimed by the students and parents. 
Using this examination's performance, ICAR fills 100 percent seats of Delhi University under Indian Agricultural Research Institute (IARI), Indian Veterinary Research Institute (IVRI), Central Institute of Fisheries Education (CIFE) and National Dairy Research Institute (NDRI).
Not only DU, 15 percent undergraduate seats and 25 percent of Undergraduate seats of other agricultural universities are filled on the basis of this examination. 
Programmes Offered
Undergraduate Courses: Agriculture, Biotechnology, Community Science(erstwhile Home science), Food Technology, Fisheries, Food Nutrition and Dietetics, Forestry, Sericulture, Agricultural Engineering, Horticulture, Dairy Technology.
Postgraduate Courses: 
Horticulture, Plant Sciences, Entomology and Nematology, Agronomy, Plant Biotechnology, Social Sciences, Agricultural Engineering and Technology, Water Science and Technology, Community Science (erstwhile HomeScience), Veterinary Science, Animal Biotechnology, Statistical Sciences, Animal Sciences, Fisheries Science, Physical Science, Dairy Science, Forestry/ Agroforestry and Silviculture, Dairy Technology, Food Science Technology and Agri-Business Management.
PhD Courses
Horticulture, Veterinary and Animal Sciences-I, Veterinary and Animal Sciences-II, Veterinary and Animal Sciences-III, Dairy Science, Dairy Technology and Food Technology, Crop Sciences-I, Crop Sciences-II, Crop Sciences-III, Agricultural Engineering and Technology, Fishery Sciences, Natural Resource Management-I, Natural Resource Management-II, Agricultural Economics & Agri-Business Management, Community Science (erstwhile Home Science), Agricultural Extension and Agricultural Statistics.
Check Out More Updates on ALL INDIA ROUNDUP