Gauri Khan Gets Trolled On Instagram For Sharing The Bikini Picture Of Suhana, SRK Fans Comes To Rescue
Nowadays, people are so much worried about the dressing sense of celebrities. Earlier in a number of incidents, many actresses and celebrities were trolled and shamed on the social media just because it appeared as a non-sanskaari appearance to few people.
It's high time, it would be good if people simply start minding their own business, instead of fingering the celebrities' lives. In the middle of 'Jab Harry Met Sejal' promotions, Shah Rukh Khan along with his wife Gauri Khan and Suhana and Abram went to Los Angeles for a vacation. In regard to continuing with the movie promotions, the actor returned to Mumbai.
Meanwhile, Gauri Khan along with others decided to stay for a while in LA. Celebrating the vacation, Gauri Khan shared a picture of her along with daughter Suhana and Abram, in the picture, Suhana is seen in the blue bikini while Abram playing in the sand.
People on Instagram felt that the picture of Suhana is quite offensive, they slammed Gauri saying that it is a cheap publicity stunt and should not be posted like that in public.
Check out the post here:
"The classic stretch of sand #malibubeach," she captioned the picture, that was a perfect beachside click. Contrary to that, haters who simply enjoyed bashing up celebrities targeted Gauri and slammed her for sharing bikini picture of Suhana Khan. Suhana was slut shamed for wearing a bikini on the beach. The Instagram post was filled with negative comments bashing her.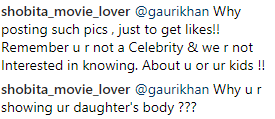 What else would people wear at beaches, there is nothing wrong with the way Suhana has dressed and it is clearly time for people to step forward and act more maturely instead of slut-shaming everyone they encounter in their way. However, while all the illogical comments continued, sensible SRK fans came to the rescue and saved the day. Thanks for those people who appreciated the picture, after all, a simple act of positivity is all we need every day.
Related Article: Here's Disha Patani's Epic Reply To The Guy Who Slut-Shamed Her On Instagram