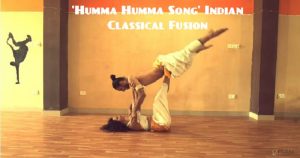 Here Is The Indian Classical Fusion Of OK Jaanu's 'Humma Humma' And You Can't Take Away Your Eyes Off It
The 'Humma Humma song' made its debut in 1995 in a critically acclaimed and sensational movie 'Bombay'. Later in the early 2000s, remakes and remixes of veteran songs became a trend, especially when it stars the son of the hero who earlier starred in the original.
Now, Rehman reoccupied people's playlist through Badshah's saucy rap and Aditya-Shraddha Kapoor's spellbound saga. Quite soon after uploading on Youtube, the song went viral and it is about to hit 100 million view mark. Thanks to Badshah for recollecting Rehman's masterpiece.
Putting aside the comments made by critics, the remake video has some intriguing elements that are well connected to the audiences. Jubin Nautiyal and Shashaa Tirupati gave a soulful reprise to the song and Badshah's rap made it more modernised without disturbing its classical touch at both edges.
Well! there are many fan-made videos, stage performances and the movie's original along with remake video, but despite remaking the song, here is a dance duo who set the Social media on fire with their fusion video. The couple successfully reshaped the song and flawlessly pulled the output in their pure Indian Bharatanatyam style.
This video made by these passionate dancers is going viral on social media.
Here Is The Video:
Coming to the details, Choreographer Priya Kumar Varunesh, of Dance Indian Dance fame, paired up with Satvik Mahajan to create a Bharatnatyam, Bollywood and contemporary style fused 'Humma Humma' version, and we LOVE it!
However, this is not the time she impressed us with her fusion number. Remember last year when we were amazed to see three women dancing Bharatnatyam to Ellie Goulding's 'Love Me Like You Do'? Yes, Varunesh was among one of them.