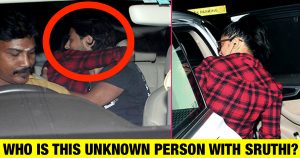 Shruti Haasan Caught On Cam Doing PDA With Someone, Check Out Who Is This Guy!
Actress Shruti Haasan has been on news from the very beginning of her career, be it her unexpected romantic scenes in Dhanush's much acclaimed 'Moonu', or the well received vocals of her for the many popular songs in South India. There are some other reasons that shed limelight on her career and personal life, allegations of her affair with Dhanush and relationship with Suresh Raina stand atop amidst all other happenings.
While it was assumed that everything is going plain, she then played the role of a prostitute in box office bomb 'D Day', the posters of the movie were brutally slammed in Tamil Nadu.
The actress was also quoted saying that she is ready to have kids even before her marriage and it doesn't bother her. Following all these, she bluntly refused to clarify anything about her relationship with the rumored boyfriend Michael Corsale.
Since few weeks, she was caught on cameras several times, hanging out with her boy friend at various events with the recent one being Cannes. Even Kamal was captured conversing with him, this indicates the approval of him for his daughter's love interest.
However, her recent picture in which she is seen hanging out with her man of love in Mumbai is going viral on the Internet. In the picture, she is seen hugging Michael in the car. Though the media people shot a couple of questions regarding this, she absurdly denied answering any.
Related Article: Mahesh Babu Answers Why He and Shruthi Hassan Were Laughing During Audio Launch Looking at Mobile