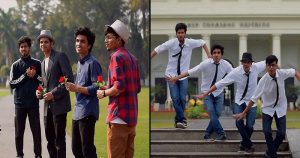 This Video Of IIT-Roorkee Students Dancing For Ed Sheeran's 'Shape Of You' Is Now Everywhere On Social Media
Social media is an amazing platform for the artists out there, let it be dance videos, singing versions or travel blogs. Now, here is something that is taking the Internet by storm from past three days. Prominent American singer Ed Sheeran's new musical video 'Shape Of You' is released on January 30 and already hitting great numbers on Youtube.
Soon after the song is released, a group of IIT Roorkee students decided to make a dance video to the song, they did it gracefully and released the video on the eve of valentine's day, the video was able to gather huge attention from the netizens across the country and people ended up praising the students for their amusing moves and interesting subject adoption.
Contrary to the elders' opinions on IIT students, they're well known for some artistic deeds, apart from studying and bagging jobs with a huge package.
The video is themed on the idea of spending a "less lonely" V-Day, Watch Video Here:
https://www.youtube.com/watch?v=dTMLTCJzYGM