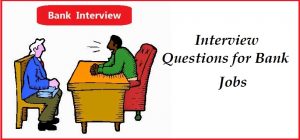 Frequently Asked Interview Questions & Answers For IBPS PO Clerk SBI RRB Bank Exams
Bank interview questions will explore your technical experience and skills as well as the key job competencies as they relate to the banking position. A bank is a financial intermediary that accepts deposits and channels those deposits into lending activities, either directly by loaning or indirectly through capital markets. A bank links customers that have capital deficits and customers with capital surpluses.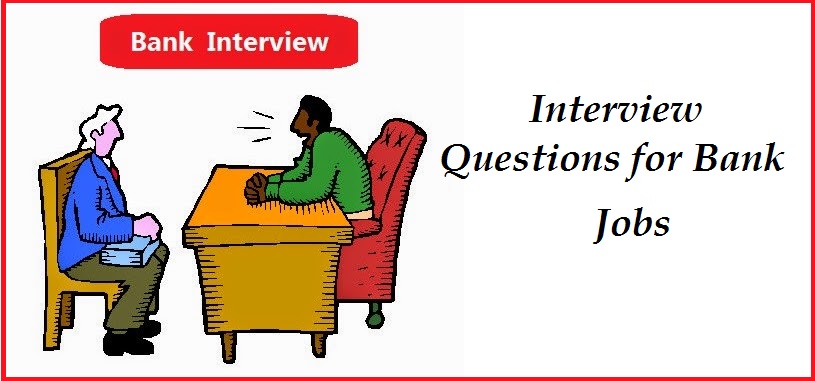 Due to their importance in the financial system and influence on national economies, banks are highly regulated in most countries. Most nations have institutiona lised a system known as fractional reserve banking, under which banks hold liquid assets equal to only a portion of their current liabilities. In addition to other regulations intended to ensure liquidity, banks are generally subject to minimum capital requirements based on an international set of capital standards, known as the Basel Accords.
Banking in its modern sense evolved in the 14th century in the rich cities of Renaissance Italy but in many ways was a continuation of ideas and concepts of credit and lending that had its roots in the ancient world. In the history of banking, a number of banking dynasties—notably the Medicis, the Fuggers, the Welsers, the Berenbergs, and the Rothschilds—have played a central role over many centuries. Theoldest existing retail bank is Monte dei Paschi di Siena, while the oldest existing merchant bank is Berenberg Bank.
Interview Questions for Bank Exams:
Problem here is that  most of the candidates after clearing the written exam will get relax and they neglect the personal interview section. Where we advise the candidates not to neglect the personal interview. Off course personal interview session is very easy but that depends on the persons in the interview panel and it also depends on the candidate answering to the questions .
Generally Interview panel deals with thousands of candidates and mostly they will not have patience to understand the deeper capabilities in candidate .Candidate should create friendly, pleasant positive mood there with your skills. These skills are also called self marketing skills. Self marketing skills are always important for candidates to grow higher in your career where ever you are.
Here we are listing some topics that are being asked in the currently on-going Interviews of IBPS qualified candidates for PO and Clerical Posts. As per response received from our readers, we are listing common questions being asked frequently in Interviews..
BANK EXAM INTERVIEW QUESTIONS WITH ANSWERS:
Q . Tell /describe about yourself (you will be asked this 90%)
A: Don't recite your resume.Tell about your education, experience, projects worked, passion etc.,
Make sure you complete this within 2-­3mins so the interviewer doesn't get bored.
Q. Why should we hire you into our organization?
A : This would be perfect time to tell about your strengths,achievements & assets. Compare your profile with the job role & justify that you will be a best fit for the job.  Answers like 'This is a best company' , 'I want a job in this field' wont impress the interviewer. If you are an engineering graduate or PG degree holder (MBA/ MCA), prepare a convincing answer since this will be a sure question.
Q. What are your strengths & weakness?
A: This is a tricky question, wherein the interviewing panel want to know about you in your own words.So do it right.
Strengths – Mention a quality about you that has some relation to the job or post you applied for. 'I am very good in english' can be said as 'I have good communication skills & hence can provide good service to customers  Weakness – Make sure to say something which will not show yourself in bad light.Also describe about the steps taken to overcome that weakness in you. 'I don't have any weakness' means you are not ready to talk about it. Similarly don't say something like, 'Im short tempered & get angry very soon' – It gives an impression that you are not fit to work in group.
Q. Where do you see yourself after 5 years ?
A: This question would be asked to check how clear are you about the career path.
'After 5 years,I want to be in your seat' wont work in any case.Think realistically, understand the growth opportunities of that job & put it across to them. These are just few questions that can be asked during an Interview ,but the list is exhaustive.So be prepared to answer any question with confidence.
OTHER TOP BANK EXAM INTERVIEW QUESTIONS :
What is your educational background?
Tell me about your father's profession
Do you have any experience in Bank?
Do you work for any Software company before?
How  you will suit for bank?
What types of crops in your region they grow commonly?
After MBA, why you want to join Bank, and how you are useful to us?
What's your score?
What is a bank?
How your field useful to bank??
Why you want to join banks?
Are you a team player or lead any time?
Difference between GDP & GNP?
What is Boyle's law?
What is law of Motion?
Difference between credit card and debit card?
Do you bank account? In which bank? What type of account?
How much of interest they are giving to you?
Who is regulator of banks?
What is liquidity?
Is there any ATM without a PIN?
What is RBI?
Functions of RBI?
Does it regulate cooperative banks also?
Current CLR, SRR rates?
As a bank employee what you want to do for our bank?
How rupees value getting depreciated?
What are the measures to control depreciation ?
Full form of ATM?
SBI chairman?
RBI Governor?
How can an illiterate person use card if he doesn't know how to use it and enter the pin?
What about the people in rural areas who are illiterate and how will they be able to use cards and all?
What is Financial Inclusion?
Limit of educational loan?
In education loan there is need of any collateral security ?
What is Demat Account?
Who introduced Financial Inclusion?
Current Repo rate, bank rate, Reverse repo rate ?
Do you know about SHG? EXPLAIN IT
What is the problems at present public facing in the Public sector banks??
What is difference between Primary & Secondary market?
What type of Demand Loans are introduced by Andhra bank?
Who is chief election commissioner of India ?
What is RDMS?
What is the latest version of Oracle?
What is normalization?
Which N-form most use in Normalization?
Who regulates share market?
Who regulates insurance sector?
Who is the health minister of delhi ?
Who is the CVC?
Who is the CIO?
About Chairman
About Headquarters
Have you heard about CSR?
Tell me 2 companies which are following CSR?
Tell me 2 names of public & private banks who's head is a woman?
Difference between money Market and Capital market?
What is IPO?
What is Follow up IPO? If IPO has already issued then what is the need of it?
What are basic A/c Principals?
Difference between World Bank and IMF?
Types of customers?
what is LT, ST, MT?
Liability & assets side of Banks
What is the function of Financial Management.
When RBI borrows from other banks, then money in market increases or decreases?
What is Sarfaesi act
What is NPA
Difference between Sales and Marketing?
What is CRR and how RBI uses this as a tool for various?