Gone Girl (2014) Review, Rating & Collections Report
"Gone Girl" is art and entertainment, a thriller and an issue, and an eerily assured audience picture. It is also a film that shifts emphasis and perspective so many times that you may feel as though you're watching five short movies strung together, each morphing into the next. A lady vanishes and is soon presumed dead, but it's her marriage that winds up on the autopsy table in "Gone Girl," David Fincher's intricate and richly satisfying adaptation of Gillian Flynn's 2012 mystery novel. Surgically precise, grimly funny and entirely mesmerizing over the course of its swift 149-minute running time, this taut yet expansive psychological thriller represents an exceptional pairing of filmmaker and material, fully expressing Fincher's cynicism about the information age and his abiding fascination with the terror and violence lurking beneath the surfaces of contemporary American life. Graced with a mordant wit as dry and chilled as a good Chablis, as well as outstanding performances from Ben Affleck and a revelatory Rosamund Pike, Fox's Oct. 3 wide release should push past its preordained Oscar-contender status to galvanize the mainstream.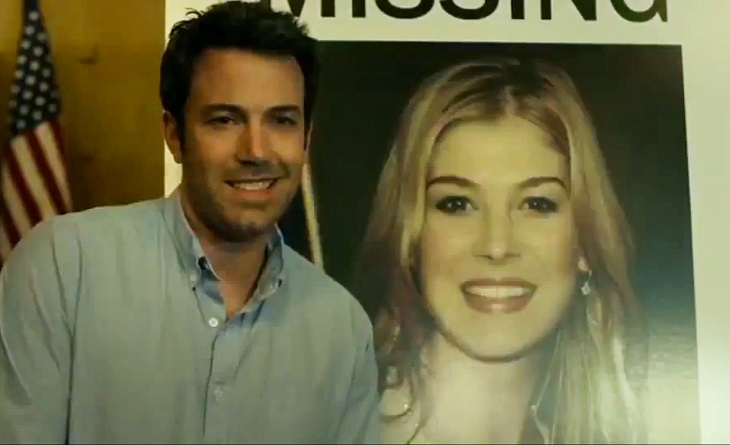 Featuring: 
Ben Affleck … Nick Dunne
Rosamund Pike … Amy Dunne
Neil Patrick Harris … Desi Collings
Tyler Perry … Tanner Bolt
Sela Ward … Sharon Schieber
Carrie Coon … Margo Dunne
Kim Dickens … Detective Rhonda Boney
Patrick Fugit … Officer Jim Gilpin
David Clennon … Rand Elliot
Lisa Banes … Marybeth Elliott
Missi Pyle … Ellen Abbott
Director: David Fincher—"Fight Club" (1999), "Se7en" (1995), "The Curious Case of Benjamin Button" (2008)
Producer: Artemple
New Regency Pictures
Distributor: Twentieth Century Fox Film Corporation
MPAA rating: R
MPAA explanation: a scene of bloody violence, some strong sexual content/nudity, and language
Rating:
3.5/5
Brief Story:

On the day of his fifth wedding anniversary, bar owner Nick Dunne (Ben Affleck) faces a new world order: His wife, Amy (Rosamund Pike), has gone missing, their coffee table smashed to pieces. Cops descend upon the Dunnes' Missouri subdivision to help find her, but soon all eyes are trained on Nick, who hasn't exactly been a model husband. But Amy hasn't always been the perfect wife, either. Nick has his sister Margo (Carrie Coon) on his side and soon enlists a lawyer (Tyler Perry) famous for defending the indefensible. Everyone — including Nick, who's desperate to clear his name — wants to know: Where is Amy?
Good Thing is..???
The Quality of Story: Gillian Flynn (the author) is brilliant. The story she has created reaches a depth that after I had left the theater I kept thinking, "Wait, I get it! Because this happened this was also able to happen!" After I walked out I had more questions than answers, but in a way that was good. I couldn't but wonder how the story would continue. What I also appreciated was the way Flynn (and director David Fincher) successfully mastered the art of misdirection in this story. There are so many twists and surprises that I was kept guessing until the very end. And that's how you write a movie.
Why should you watch this film???
It might sound a tad cheesy, but how can you miss a David Fincher film? Do we seriously need a reason here? Based on the global bestseller by Gillian Flynn, Gone Girl is the perfect thriller you are craving for. Watch it for Rosamund Pike's impeccable performance.
Gone Girl Box Office Collections:
According to Yahoo, as of Friday, "Gone Girl" has already earned $37,513,108. Its closest competition is "Annabelle" which got the number two spot and earned $37,134,256.
Conclusion:
With some serious, large amounts of editing, perhaps this film could have been recommendable, as the performances are good, the story serves its purpose well in the psychological thriller genre, and the characters are developed. But morally, as it is, this movie is extremely offensive. No question. Sexual content and nudity are ever present, scenes of violence are frequent (some are very gross), and profanity runs rampant.
Final Words: Violence: Extreme / Profanity: Extreme / Sex/Nudity: Extreme