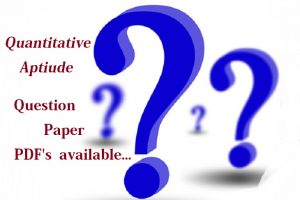 IBPS, MBA, CAT, Quantitative Aptitude Previous Year Questions & Answers PDF Download
Aspirants those who preparing for the Bank Examinations of Probationary Officer, Specialist Officer & Clerk Posts conducted by the Various Organizations of State Bank of India (SBI), Institute of Personnel Banking Selection (IBPS) & Other will be see the more details regards to the each & every thing in those sections of Arithmetic, Reasoning, English, Computer Awareness and General Awareness & Marketing Aptitude. This Aptitude Paper will help all the students for their preparation.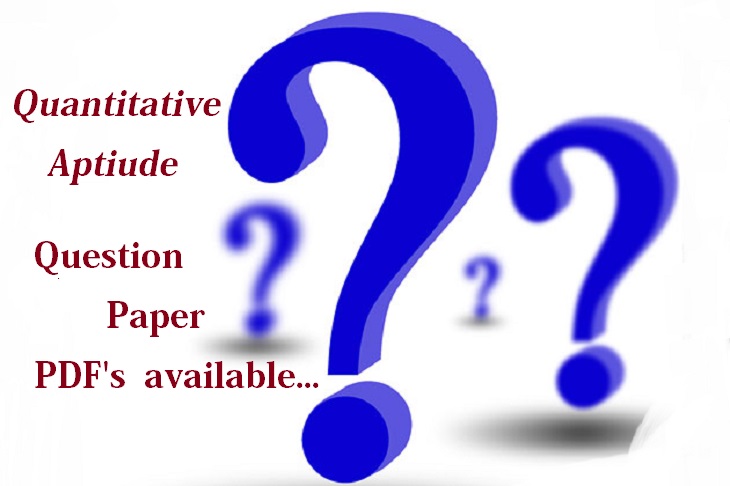 The relevant current happenings are compiled on monthly basis under the head- India Watch and World Watch. Here are the happenings from the month of March. Candidates should note that current Affairs presented in point form are not only useful for Banking Exams but also highly useful in SSC and other competitive Exams.
This Aptitude Question are based on the syllabus but here some of the question may out of syllabus, just for your better exam preparation. Practice makes a man perfect. And to become even more better, you need to solve questions differently. You will be having books like RS Aggarwal Quantitative Aptitude or Arun Sharma Aptitude book but have you ever tried some other methods of solving the questions. If you know how to solve a problem fast then you are going to score really good in any exam. You are going to find so many tips, tricks and techniques in these ebooks which will help you.
Previous Years Quantitative and Aptitude Question Paper PDF's Free Download
All the Best Guys…
You Can Get RRB Previous Year Question papers Here