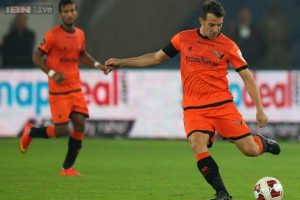 ISL Highlights: Chennaiyin FC Vs Delhi Dynamos / DDFC Match Draws 2-2
Italian legend Alessandro del Piero scored his first goal at the fag end of the tournament via a superb free-kick as Delhi Dynamos rallied from two goal down to hold leaders Chennaiyin FC 2-2 in a thrilling Indian Super League football match here on Tuesday. The Game finished with a draw 2 : 2 (2 : 0) (0 : 2). The draw gave Delhi a small chance to make it to the semifinals as their qualification will now depend on the results of Wednesday's matches.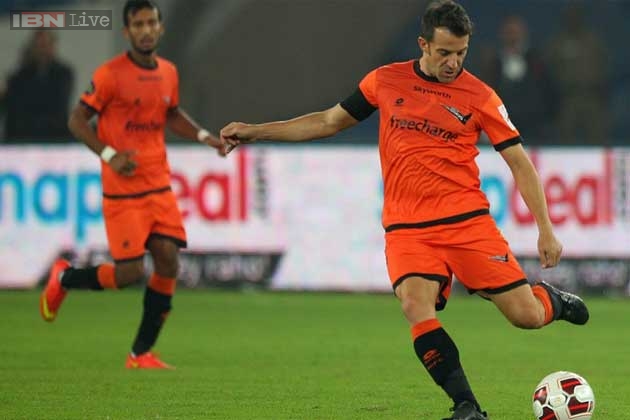 Chennaiyin FC – Delhi Dynamos Game Result and Goals:
Chennai got off to a great start, going 2-0 ahead through Bruno Pelissari (16th minute) and Jeje Lalpekhlua (28th). Delhi came back into the contest through Del Piero's superb free-kick in the 53rd minute and Hans Mulder's shot from outside the area in the 88th minute.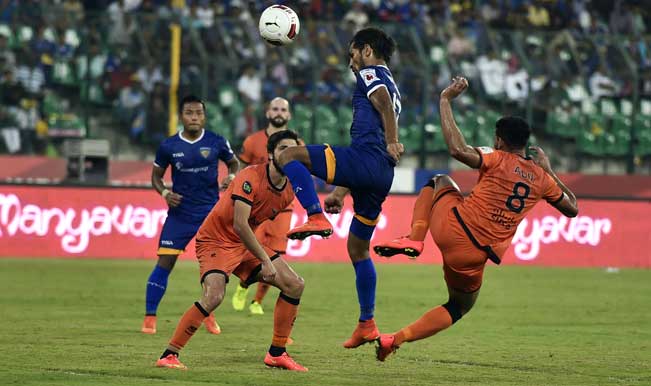 Final Result
1. Halftime
2. Halftime
Chennaiyin FC
2
2
0
Delhi Dynamos
2
0
2
88′: GOAL – Delhi Dynamos FC: MULDER NETS THE EQUALISER! Dos Santos' attempt to head Del Piero's cross towards goal is foiled by Suarez. The ball travels outside the box and Mulder slams it past Bracigliano to make it 2-2. That could be the goal that helps the national capital outfit progress into the knockout stages.
52′: GAME ON! GOAL – Delhi Dynamos FC: Del Piero breaks his goal drought and in style as he curls the free-kick past Bracigliano.
28′: GOAL – Chennaiyin FC: It's a perfect team goal by the home side! Balwant Singh sprays a cross-field ball towards Khabra at right wing and the 25-year-old delivers a low cross inside the box. Jeje gets to the ball before Houben and smashes it past Van Hout to double CFC's lead!
16′: GOAL – Chennaiyin FC: Bruno Pelissari has scored his fourth goal of the season and what a goal that was! Ali has to concede a corner as Jeje Lalpekhlua was lurking to pick up the stray ball. The Brazilian curls the ball from the corner and it beats Van Hout and hits the back of the net!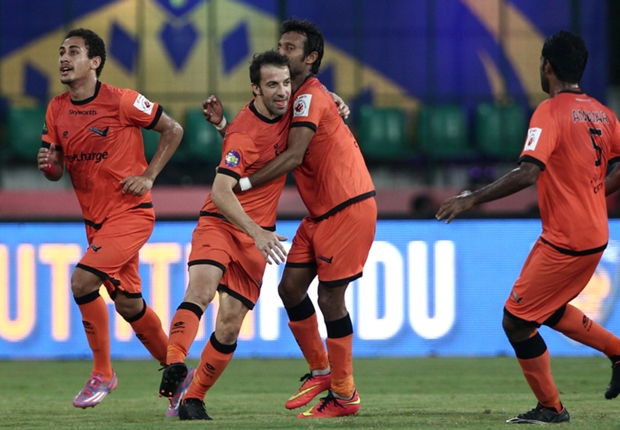 Chennaiyin, who now have 23 points after their league engagements ended, and Goa FC (21 points with one match left) have already qualified for the semifinals.
Delhi have also ended their league engagements with 18 points and their fate may be decided by the result of tomorrow's match between Atletico de Kolkata — who also have 18 points — and Goa FC in Kolkata.  The result of Wednesday's Atletico de Kolkata vs FC Goa match will decide which four teams qualify for the playoffs.
ISL – Indian Super League is getting into the Semi Finals battle. Out of eight teams top four teams will qualify for the Semi finals of ISL 2014. Chennaiyin FC were in the first position with 23 points and FC GOA in 2nd position with 21 points.
Chennayin FC, FC Goa and Kerala Blasters FC and Atletico De Kolkata are the confirmed teams who will play in the semifinals of Indian Super League 2014. Kerala Blasters made their way to the Semi Finals with a Dramatic win against Pune FC (1-0).
Chennayin FC
FC Goa
Kerala Blasters FC
Atletico De Kolkata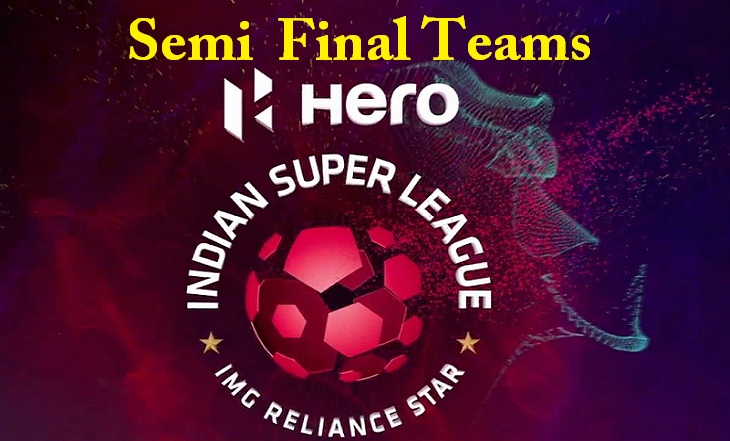 ISL – Indian Super League Semi Finals schedule
Semi Finals of ISL – Indian Super League starts from 13th December 2014 which include four matches. Check out full schedule below.
Dec 13 2014 7pm Semi Final 1: Atletico De Kolkata  Vs. Chennayin FC
Dec 14 2014 7pm Semi Final 2: Kerala Blasters FC Vs. FC Goa
Dec 16 2014 7pm Semi Final 3: Chennayin FC Vs. Atletico De Kolkata 
Dec 17 2014 7pm Semi Final 4: FC Goa Vs. Kerala Blasters FC
Dec 20 2014 7pm Final
ISL – Indian Super League Semi Finals teams and fixtures