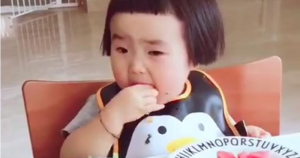 This Mashup Of A Baby Eating With Daler Mehndi's "Tunak Tunak Tun" Is Breaking The Internet!
It is sometimes difficult to understand just what makes a video go viral. Here's a video of a little girl from china with an enormous appetite is taking the Internet by storm. It already has over 42 million views and has been shared more than a million times. Oh yes, the video is set to Daler Mehndi's hit song from the 90s, Tunak Tunak Tun.
Daler Mehendi's Tunak Tunak Tun is one song that can cheer anyone up! However, Who would have thought that Daler Mehendi's Tunak Tunak Tun could be a perfect background score for a baby who's hogging her food?
Shared by a Facebook page called Shanghaiist, this video titled Foodie Baby (in Chinese) shows an adorable and chubby Chinese girl eating everything in front of her.
Check out this adorable & viral video here:
However the video has divided audiences, with some commending her parent for encouraging her to enjoy fruit and vegetables at such a young age, and other have blasted the parents for their carelessness and also, for using the baby to make a funny video without caring about the health of that baby.
Watch: Video of a Kid Revealing the Pole of Reporter During Live Reporting