Student Returns To Dormitory After 8 Months And Finds Find Skeletal Remains Of Pet Turtle
WARNING: The blog below contains images that some of you might find inappropriate or distressing. Please scroll down on your own will.
A 22-year-old student from China arrived back at his dormitory in Wuhan just to find his turtle in bones.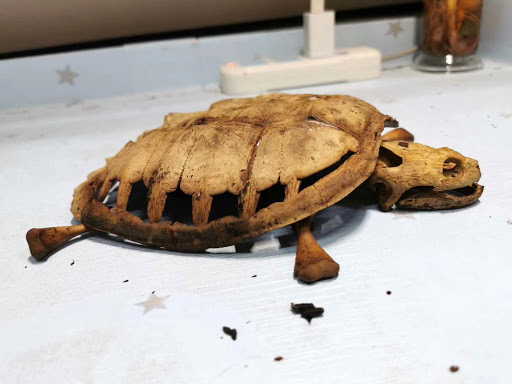 Lin Buxiu left his dorm in the Chinese province of Hubei when the coronavirus pandemic lockdown was placed in law.
He thought that he would only be away for 1 month, so he left the animal alone with food that would help him survive for a bunch of weeks.
However, he did not know that things would get worse.
Lin came back to his dorm 8 months after, and it was too late for his poor pet turtle.
The turtle that he had was an alligator snapping turtle.
Lin initially planned to go home to Taiyuan for a winter holiday on January 12, 2020, but after he left, the city ended up in full lockdown.
So Lin was away when his turtle passed away.
Talking about what happened, he said:
I only planned to be gone for about a month, so I left him enough food and water to last a few weeks. Who knew the pandemic would mean I couldn't return for eight months! When I finally returned to my dorm room on campus I found my turtle dead and bone dry on the balcony on 31 August.
When returning back to his house, he found the turtle in bone and dust.
He shared his story on Douyin, the Chinese version of TikTok.
He showed it there that his turtle had become a dry skeleton.
Lin, who is a third year student at the Wuhan University of Science and Technology, got the adult alligator snapping turtle from Taobao, an e-commerce website.
He bought it from Alibaba, the Chinese equivalent of Amazon. It cost him 150 CNY (£17) in 2019.
Talking about his pet turtle, he said:
I had only had it for about five months before I left it during the winter break. I'm keeping its bones on my bookshelf, but I'll buy a glass container to display it. I don't think I'm going to get another pet turtle while I'm still at university.
The coronavirus disease itself originated in Wuhan, China.
The city was the first in the world to be placed in full lockdown.
On January 23, 2020, the city went into lockdown. This was when the virus was not labeled as a pandemic.
Until April 8, 2020, the travel restrictions remained in place.
Students were asked to stay in their hometowns to stop the virus from spreading any further.
Lin is currently taking on his classes through an online platform.
Our thoughts and prayers are with the little turtle, may you rest in peace.