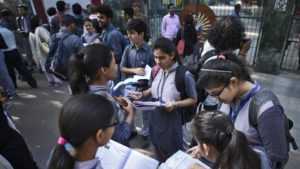 25 Students Commit Suicide In Telangana After Exam Scam In Which 3.28 Lakh Students Failed The Intermediate Exam
Officials say that 25 students have committed suicide in Telangana after the exam blunder in which 3.28 lakh students failed the exam. A total of 9.7 lakh students took the exam, the exam was held by a private exam agency.
So far, the worst case that has come up in light is when a student's exam sheet showed 00 and after it went for a recount, it went 99.
K Laxman, the BJP Chief of Telangana is now on a hunger strike and is demanding for a judicial investigation for the Exam Blunder that has caused the death of 25 students.
Some party leaders have accused CM K Chandrashekar Rao of the exam Blunder.
The intermediate exam is equivalent to the CBSE's Class 11 and 12.
During an interview, BJP Chief K Laxman said, "We are demanding a judicial probe into this. Or even by the CBI. This is not just mismanagement. This is a huge scam. The company that was given the contact for end-to-end technical support was simply not qualified to handle the future of 9.7 lakh children."
The intermediate exams were conducted by the Globarena Technologies Pvt. Ltd, the contract was handed out by the KCR Government to provide technical support.
According to some officials, the company has no experience in handling exam results, especially on high numbers for a university or even state board exams.
Professor Jyothsna, a professor who is working together with other activists who want to expose the scam said, "Globarena has no experience in handling such exams."
CM K Chandrashekar Rao has announced that all students who failed the exam will have free recounting. An exam that was scheduled for 16 May has been delayed.
On April 18, 2 girls set themselves on fire by pouring kerosene all over themselves, the incident happened in Mahbubnagar, which is 100 kilometers away from Hyderabad.
DK Aruna, a former minister said, "KTR has tweeted. Why should he tweet? Why cannot the chief minister or his ministers or KTR meet the families of students and reassure them that their future is safe? They should also pay Rs. 50 lakh compensation to the families of the children who died."
Jana Sena, an opposition party has demanded that G Jagadeeshwar Reddy, the Education Minister should resign immediately.