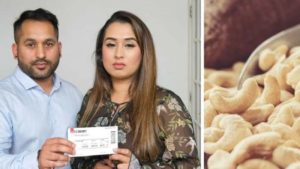 Emirates Asks Indian Siblings With "Nut Allergies" To Sit Inside Toilet
Emirates is one of the biggest airline companies in the world, but are they considerate when it comes to treating their customers right?
Earlier, Emirates asked 2 Indian siblings with severe nut allergies to sit in the toilet as the cashews were being served in the flight.
24-year-old Shannen Sahota and 33-year-old Sundeep Sahota claim that they were forced to sit inside the toilet of the airlines when cashews were being served to the other passengers.
According to the Indian siblings, they informed the company about their allergies 3 times. But during their flight to Dubai, the cabin crew started to serve fried nuts, which left them scared.
The siblings said they told the staff about their allergies during the booking of the ticket, when they were checking-in, and when they were boarding the flight.
When the 2 went to check the menu of the flight, they found out that they were being served chicken biryani with fried cashew nuts.
Just before the serving of the meal started, the siblings were asked to sit inside a toilet so they could avoid getting allergies.
The siblings got mad about the suggestion, and they were later forced to spend 7 hours at the back of the plane with blankets covering their faces.
24-year-old Shannen Sahota, an analyst in Wolverhampton, England, said, "We were stunned when a supervisor told us 'one way around it' was for us to spend the flight in the cabin loo."
She added, "We felt so degraded and embarrassed – it was horrible."
The family was on its way to Dubai from England to celebrate their parent's 60th birthday.
Sundeep, the older brother of Shannen, said the airlines ignored their allergies.
But Emirates said booking records do not reflect any mention of an allergy and they cannot guarantee nut-free flights.
In a statement that was released by Emirates, they said, "We are sorry to hear about Ms. Sahota's complaint. Emirates tries to cater to all passengers specific needs by offering a number of special meals that cover as many medical, dietary and religious requirements as possible. However, Emirates cannot guarantee completely nut-free flights."
The airlines added, "We've looked into Ms. Sahota's booking and our records do not reflect any mention of a nut allergy. All passengers who alert us to a nut allergy prior to travel are informed of our policy and it is also outlined on our website here."
Do you think Emirates did the right thing? Let us know what you think by dropping a comment below!