WWE Superstar John Cena Posts Virat Kohli's Picture On His Instagram Account, The Reason Shocks You!
John Cena is one of the most popular WWE Superstar at the moment. Virat Kohli is one of the most popular Cricketers in the World. Think if John Cena and Virat Kohli were seen together. It sounds great. Right?
On Wednesday, John Cena has created a storm on Social Media by posting Virat Kohli's picture on his official Instagram account. This post created a lot of attention from the WWE and Cricket lovers. This created a huge buzz and it has become the talk of the day.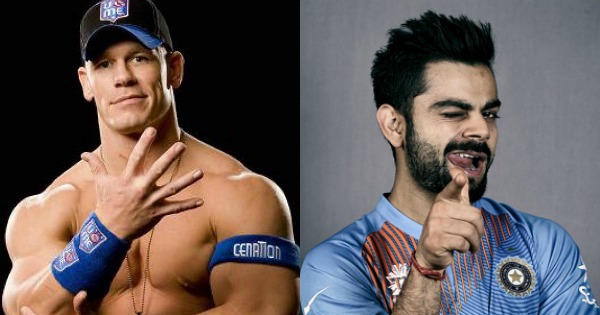 This is the rare moment where Cricket is still a sport that is hardly seen in the United States of America. John Cena, who is 15-time World Champion, surprised his fans by posting Indian Test Cricket Skipper Virat Kohli's picture on his Instagram account.
Fans got confused why John Cena has posted Virat Kohli's pic to his Instagram account while there is no connection between the two persons. The picture shows Virat Kohli wearing India's blue jersey with the word 'bleed blue'.
Reason Why Cena Posted Virat's Picture On His Instagram Account:
I guess it's because John Cena was drafted to SmackDown of WWE and the official theme colour of SmackDown is Blue, thus John would be keen to upload a picture that promotes 'Blue'. Cena would have stumbled upon Virat's Bleed Blue Picture and he would have posted it for the same.
Cena was not aware of this; he shared it to promote SmackDown. Cena soon uploaded another picture that said: "Keep Calm And Bleed Blue" which intern explains that Cena is supporting SmackDown. The post has gone viral on social media by receiving 40k likes so far. Virat Kohli is yet to react to the Cena's post.
However, a brief moment cricket and WWE met which is very rare.