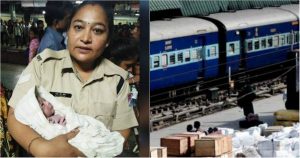 This Lady RPF Constable Wins The Hearts Of People On Twitter After Helping A Woman In Delivering Her Baby On Platform
Indian police are often treated as freeloaders and money seekers as per our day to day experiences. But, Mumbai police are more often proving that they are a standout from all other parts of the country, with many deeds performed by them in past couple of years, they're currently most respected and loved cops.
A recent incident in which an RPF constable helped a woman in delivering a baby is now going viral on social media for all right reasons.
It is pretty well known that local trains stations in India are beyond chaotic and not at all places for a woman to give birth to a child. Now, what can one do, if an emergency situation arrives? we acknowledged a plethora of news regarding woman experiencing mid-flight births or even one at McDonald's.
Related Article: This Mumbai Police Constable Climbs Hilltop And Restores Humanity By Stopping A Man From Committing Suicide
Coming to the core of the story, this incident happened at Thane station in Maharashtra, where a pregnant 24-year-old woman started experiencing severe contractions. Thanks to fellow passengers and a lady RPF constable, she safely delivered a healthy baby boy on the platform itself, both the woman and the baby are safe.
All this was successful as her husband identified the severity of his wife and cried for help and RPF LHC Shobha Mote rushed to the spot and made arrangements for a first aid kit, blankets for a dignified cover. "Mote was manning the scanning machine at Thane station. Mote heard a woman wince in pain on the platform" said source, surprisingly, the woman actually delivered her baby 25 days before the given date.
Right after the delivery, the child was welcomed into the world safely and later was shifted to nearby Civil Hospital. According to the sources, the woman is identified as Meenakshi Jadhav, along with her husband Sandesh Jadhav, had reached the Thane railway station's platform number 10 to catch a local train to Ghatkopar to visit a hospital. But before they could board the train, this incident took place.
Check Out the tweet from Central Railway:
A lady passenger delivered a baby boy at PF10 of Thane stn with timely assistance of RPF LHC Shobha Mote & passenger nurse. @sureshpprabhu pic.twitter.com/870mGMgoxw

— Central Railway (@Central_Railway) June 21, 2017
Twitter Reactions:
Baby will get free lifetime pass to travel

— Shakti Raigaonkar (@SRaigaonkar) June 21, 2017
Comandable Work Done By RPF Person Shobhaji, Hats Off To You

— Navid Shaikh (@navidsk78) June 22, 2017
Oh great news…Indian Rail must gift life time free travel card to this little one..

— Kaustav Chowdhury (@KaustavDna) June 21, 2017
Big kudos to inspiring lady LHC of Thane a salute for her brave work

— Pramesh Jain (@prameshjain12) June 22, 2017
Salute to RPF & Railway

— Vinay Kumar (@vinaykr1020) June 22, 2017
Congratulations RPF LHC Shobha Mote for yeomen service. We are very proud of you

— Dharmesh Gandhi (@dvgandhi) June 22, 2017
Salute to the RPF staff for this timely assistance. Service when required is essential

— Ramanathan n (@Ramanathann5) June 22, 2017