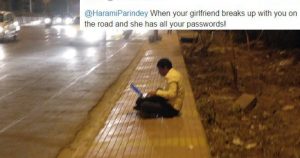 'Me Whenever Boss Uses The Term 'ASAP': Twitterati Went Crazy Over Captioning This Photo
Captioning a picture is something Twitterati is very good at. It has not been a long time since the Prime Minister Narendra Modi's picture with former American President Barack Obama went viral on the Internet after netizens couldn't stop themselves from captioning it.
Similar to the previous situation, here's another picture that's making rounds on social media as people went gaga over giving some craziest captions to the person sitting on the footpath, operating his laptop in his office attire.
Maybe he is ordering food, maybe he's busy with some presentation work and stuff, but who knows the reason behind the picture. People are enjoying reading the captions the picture wore.
Someone related the situation of the man in the picture to the frustrated work life, meanwhile, someone did the same with his love life. Whatever it might be, there are a plethora of comments that rightfully triggered the humorous point from the picture.
Read Tweets Here:
IT boss : which platform u gonna use to develop ?
He : pic.twitter.com/tgfG4PbtLO

— J (@Cool1991Jai) March 1, 2017
employee of the year pic.twitter.com/wXZYpLLigJ

— izzy (@abcdefu) March 1, 2017
when bae is online pic.twitter.com/sqa90e1xmq

— izzy (@abcdefu) March 1, 2017
"Bhai jaldi login karke gaali de, SRK fans ne Salman Khan ke baare mein faltoo bol diya"

"Bhai I'm on way to office"

"It's urgent"

"ok" pic.twitter.com/WX3DluHQs3

— Pakchikpak Raja Babu (@HaramiParindey) March 1, 2017
When Boss says do your presentations now. pic.twitter.com/EJWnG0gFMr

— PALLAV (@Impallav37) March 1, 2017
When your girlfriend breaks up with you on the road and she has all your passwords! pic.twitter.com/IUfqfjau1X

— Doorka Rishtedar (@DoorkaRishtedar) March 1, 2017
Me whenever boss uses the term 'ASAP'. pic.twitter.com/N9f4ojGt1r

— Sand-d Singh (@Sand_In_Deed) March 1, 2017
Future innovation – Digital Toilets. pic.twitter.com/Lx5bvwvs4H

— Keh Ke Peheno (@coolfunnytshirt) March 2, 2017
@Humor_Silly Vikas along with विद्युत and laptop pic.twitter.com/ICp5QbbbXH

— Nasty Thing (@HEMESH76) March 2, 2017