Srinu Vaitla's Counter Attack on Prakash Raj Comments
As we already know recently recently Prakash Raj fired on Srinu Vaitla for using his poem in Aagadu Movie. Prakash Raj conducted a press meet couple of days back and commented on Srinu Vaitla and his latest movie Aagadu. The war between Prakash Raj and Srinu Vaitla is not ended. In retort to Prakash Raj, Srinu Vaitla gave a counter attack today.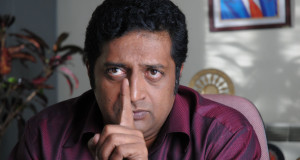 Prakash Raj Tweets After Srinu Vaitla Press Meet:
Prakash Raj tweeted as "Kondaru mararu 'thaati chettu kinda doriki poina vadni em chestunnav Ani adigithe paalu thaaguthunna ani chepyadanta' all the best cheers", Looks like the rift will continue.
Srinu Vaitla Counter Attack on Prakash Raj:
Talking to media in a press meet, Srinu Vaitla pointing to Prakash Raj's comments and Srinu Vaitla said, he is not in a position to take advices from Prakash Raj who made a dud movie like Ulavacharu Biryani. While commenting on the Prakash Raj's poem Srinu Vaitla added saying Prakash Raj has many complaints, allegations and bans in the industry which shows he is arrogant.