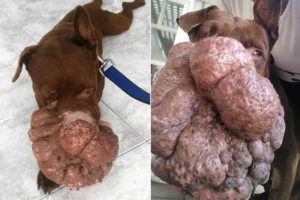 Abandoned Pitbull Dies After Operation To Remove Massive Tumor On Her Face
A poor abandoned pitbull, who was named Hope, that was found with a huge tumor covering its muzzle has passed away after a complicated operation to remove the growth.
Hope had a serious tumor that was being treated by vets, however, she lost her battle after the surgery.
Hope had been taken to a veterinary center in Gran Canaria, which is one of the Canary Islands in Southern Spain on June 11, 2020.
Hope was rescued by an unidentified rescuer who found the pitbull in an abandoned street.
When Hope was brought to the Eyre Por Los Peludos animal organization, which operates in Las Palmas city, they decided to go for an operation, which could have saved the dog.
The story of Hope was shared on social media, where many people sent money to help in the surgery of the pooch.
Hope went to the surgery on June 19, 2020, however, she did not survive.
The lengthy operation was carried out at the Ulpgc Veterinary Clinical Hospital in the city of Gran Canaria and she sadly died on the operating table.
A vet that works at the Ulpgc Veterinary Clinical Hospital said:
She was a great warrior and thanks to the person who picked her up and who gave her the opportunity for a decent life, we are very sure that she knew some moments of happiness at the end. She entered wagging her tail, happy, saying hello, she was not afraid, everything was going well, but sometimes life is not fair and although she endured all the surgery, in the end, and for no apparent reason she left us. Rest in peace Hope, now you are free.
Hope did not have any microchip, which could have helped authorities track down its real owner.