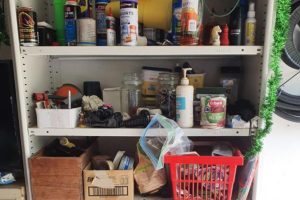 Can You Find The Carpet Python Hiding In This Family's Kitchen Larder?
An Australian snake catcher is teasing people to play find the snake in a cluttered kitchen cupboard.
A Queenslander Stuart McKenzie floored social media users and challenged them to find a carpet python, who was hiding in a kitchen larder.
The Sunshine Coast Snake Catchers shared the image on their Facebook page and asked its people to "fine the snake".
While sharing the picture on Facebook, Stuart McKenzie, the snake catcher, said: "Amongst all the [coronavirus] panic I think a good old fashion game of 'Spot the Snake' is what we all need."
He added, "See how you go finding this one and bonus points if you can guess the species. We will continue to provide a 24/7 snake catching services across the whole Sunshine Coast, Noosa and Deception Bay areas despite the CoronaVirus. "
He continued, "Snakes don't stop for no virus [sic].  We will start employing distancing at snake calls but let's be honest we already make sure our customers stand well clear of us when we are catching the snakes."
After posting the picture, Stuart got over 200 comments.
Most of the people in the comments section were baffled because they couldn't find the snake.
Phil Trevan, a social media user, said, "I hate spot the snake, I have never worked out one yet."
Bob Trezise, another user, said, "Top right, deadly green tinsel adder??"
Connie Carey said, "it's a goodie. Cannot see it."
In the end, Stuart relented and provided the answer for the users that were having a hard time in finding the python.
The carpet python was hiding between cardboard and plastic storage boxes.
Imagine trying to get food amidst the coronavirus outbreak, just to find a massive carpet python looking straight at you.