Caught On Cam: Huntsman Gets Chased Up And Down The Road By Massive Bird
In a hilarious moment that was caught on cam recently, a huntsman was chased up and down the road by a huge rhea.
The incident happened when an escaped rhea was being hunted by a huntsman in Warwickshire.
According to reports, the rhea was scared by the huntsman when it was being chased.
The entire incident was filed by West Midland Hunt Saboteurs.
In a defensive move, the massive bird ended up chasing the rider up and down the road.
The hunter could be seen furious when he got to face to face with the bird.
The massive bird escaped and got into the village of Avon Dassett near Banbury in Warwickshire.
In the video that was shared with the public, a woman can be heard saying, "This is your responsibility, your hounds were in with those, are you going to do anything about it?"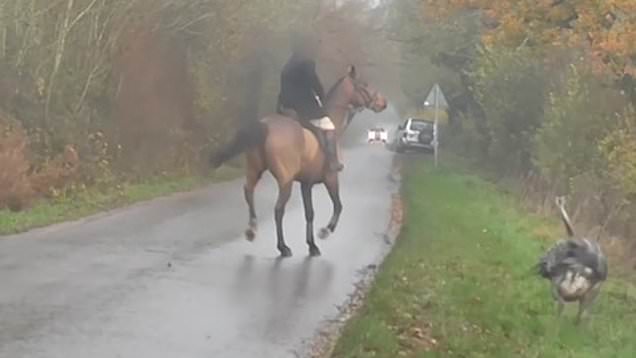 The woman added, "You lot are unbelievable. It has been frightened by a pack of hounds. It is now being frightened by your rider."
The hounds of the huntsmen were barking near a smallholding that contained ostriches from a nearby farm.
As a result, a young rhea escaped and started to go wild on the road, which is really close to the M40 motorway.
For those who do not know, Rheas are large ratites, a type of bird that doesn't fly and does not have a keel on their sternum bone.
Rheas are native to South America.
Rheas are distantly related to ostriches and emus.
Rheas usually have grey and brown feathers, long legs, and long necks, just like an ostrich.
Male rheas are capable of growing to up to 170 cm tall, 100 cm at the back, and are capable of weighing to up to 40 kilograms.