Chile Dog Rescued After Getting Its Head Stuck In A Wheel
A silly dog in Chile got his head stuck in the middle of a car wheel when it was messing around and was forced to be rescued by emergency responders.
The poor dog was rescued from the La Chimba Rubbish Dump, in the Antofagasta City of Chile, when it accidentally got its head stuck in a car wheel.
The video of the animal was also shared, and it showed the female dog's head being slowly removed from the wheel.
After the dog was successfully removed from the wheel with the help of petroleum jelly, the dog was brought to the local vets' office so it could be checked.
Local news agencies report that the dog is an 8-month-old female puppy.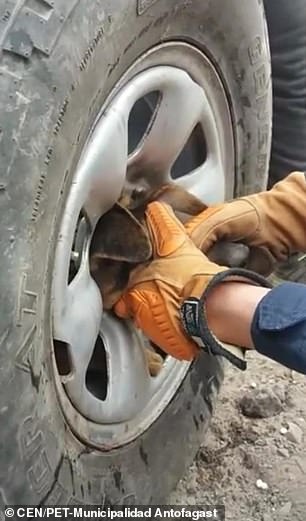 The dog was rescued by the staff of the Sterilisation and Responsible Pet Ownership Program of Antofagasta, and a team of firefighters.
Eliel Morales, a veterinarian, confirmed that the dog was an 8-month-old female puppy that lived near the dumpsite.
When the emergency responders arrived, the pooch was aggressive, and the authorities had to sedate it so it won't cause harm to anyone.
Eliel said the dog was uninjured.
Morales said that the dog will be sterilized and vaccinated so it could be released back in the area where it was found.
Morales explained why the pooch couldn't be adopted.
He said, "As it is wild, it cannot be adopted. It is of no use to humans."