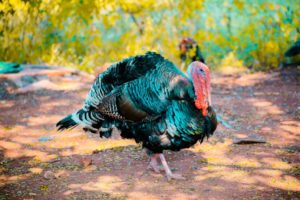 Over 10,000 Turkeys Will Be Culled On A UK Farm After Bird Flu Outbreak
Over 10,000 turkeys will be killed in a humane way at a farm in the United Kingdom after an outbreak of bird flu.
The reports of the outbreak were confirmed on November 29, 2020.
The Department for Environment, Food, and Rural Affairs (DEFRA) said that the outbreak happened at a farm in North Yorkshire.
A temporary control zone has been placed around the farm in an effort to stop the disease from spreading any further and cause more harm.
The DEFRA released a statement about the outbreak and said:
Avian influenza of the H5N8 strain was confirmed at a turkey fattening premises near Northallerton on Saturday November 28. All 10,500 birds at the farm will be humanely culled to limit the spread of the disease. A 3km and 10km temporary control zone has been put in place around the infected site to limit the risk of the disease spreading.
Despite the culling of thousands of Turkeys, the authorities said that the supplies of turkeys over the festive season will not be affected at all.
The PHE (Public Health England) and the FSA (Food Standards Agency) said that there is a very low risk of the bird flu getting to humans.
Christine Middlemiss, the Chief Veterinary Officer of the United Kingdom, released a statement about the incident.
The statement reads:
Bird keepers should remain alert for any signs of disease, report suspected disease immediately and ensure they are maintaining good biosecurity on their premises. We are urgently looking for any evidence of disease spread associated with this farm to control and eliminate it.
The local Health Protection Team is working with the DEFRA to monitor the ongoing situation.
Let's hope nothing bad happens in the upcoming days that are left of this horrible year.
What are your thoughts about the incident? Let us know what you think about it by leaving a comment in the comments section below!