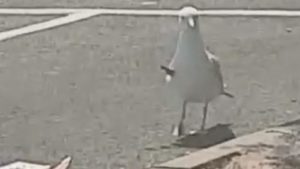 Seagull Waddles Around KFC Car Park With 20 Inch Arrow Sticking Through Its Body
A seagull was spotted walking and flying around a car park in Blackpool, Lancanshire, with an arrow sticking out either side of its body.
James Squire, a local, filmed the entire incident at a KFC drive-through in Blackpool, and shared the video on social media.
The pointed end of the 20-inch arrow was sticking out of its breast and the other end was underneath its tail.
People believe that the bird was targeted and hit with a crossbow.
In the video, the bird seems to walk unimpeded by the long piece of metal.
Talking about the incident, James said:
I was in my car when I looked out my window to see this bird with an arrow sticking right through its body. I couldn't believe it, it was such a bizarre thing to see. It looked like the gull was looking for food.  It flew away and then came back at one point. There was no blood or anything. I hope the bird is okay.
Social media users believe that the seagull was shot on purpose.
It is believed that onlookers tried to catch the seagull and take it to a vet.
However, the bird kept on flying way.
The attack has been reported to the RSPCA.