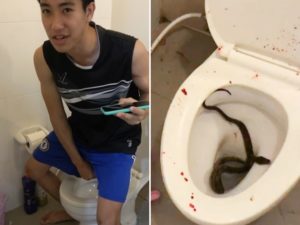 Thai Teen Left Hospitalized After Python Bites His Genitals While He Was Sitting On Toilet
An 18-year-old boy from Thailand was left hospitalized and traumatized after a 4-feet python bite his genitals while he was sitting on the toilet.
On the evening of Thursday, Siraphop Masukarat, the teen, was on the toilet when suddenly a snake bit his genitals.
He said that he just felt tremendous pain as the python, which is non-venomous, took a bite of his genitals.
Masukarat jumped up and ran for his life with his pants still around his ankles.
The snake did let go of his genitals, however, it left a lot of blood pouring out from his genitals.
The mother of Masukarat was at their house when the horrible incident happened.
The victim of the horrible attack said that his mother calmed him down as the paramedics arrived, who rushed him to the hospital to stop the bleeding.
He needed 3 stitches on the tip of his genitals.
Talking about his genitals, Masukarat said that it will be alright in the near future.
An antibiotic wash was used to clean up the wound on the tip of his genitals.
Animal handlers were also called on the scene to retrieve and rescue the snake, which by the way was still in the toilet.
It was safely captured without any complications and was released into the wild by the snake catchers that came to the scene.