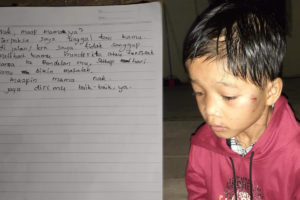 8-Year-Old Girl Rescued After Being Found Abandoned By Mother At Petrol Station Because She Was Too "Naughty"
A reckless mother abandoned her 8-year-old daughter by dumping her at a petrol station saying that she was extremely naughty.
The mother wrote in a letter that she left with the kid that she had enough of her bad behaving kid.
The child was left at the site with a note.
The horrific incident happened in Kabupaten Pelalawan, Indonesia.
The kid was reportedly told that she should learn how to take good care of herself all by herself, said reports on the internet.
A police hunt is now on for the heartless parents of the little girl.
The police said that they have no reports filed for a missing child.
They could not also know the real identity of the girl, who is currently in their care.
According to reports, the girl was abandoned at a petrol station for being too problematic.
She was found holding a note from her mother, which was later shared with the public by the local authorities.
The note said:
Child, forgive me. I am forced to leave you on the street as I'm no longer willing to see you suffer or tortured because of your mischief, every day you are causing problems. Forgive me, child. Take good care of yourself.
The authorities are currently trying to track down the parents of the girl and the area that she lives in to know why she was abandoned.
They are also looking into the possibility of being abused by her parents.
An official investigation is still ongoing, confirmed by the authorities.