Watch: Amitabh Bachchan Singing 'Le Panga' For Pro Kabaddi Promotional Song [VIDEO]
Bollywood Superstar well known as Big B Amitabh Bachchan has took the mic to sing a promotional song for Pro Kabaddi League. The title of the song is "Le Panga" and is released in four versions. Big B not only sung but also performed dance moments during singing. This video makes the audience to attract to Pro Kabaddi League season 2. Earlier, Big B has crooned numbers like Holi khele Raghuveera and Ekla chalo re and Piddly.
The tournament is going to be started on July 18th. Superstar has shared the video of the song on his official blog as well to promote. His son Abhishek Bachchan is the owner of Jaipur Pink Panthers. The team has also launched the new logo and is going to kick start with Mumbai team on the opening match.
Amitabh Bachchan Wrote On His Official Blog:
"Okaaayyyy… so the song that I have been musing and easing and frightening you all with, is a promotional song for Pro Kabaddi, the game that starts on July 18th… and yes Jaipur Pink Panthers with their new logo and the leadership of its owner Abhishek will be playing the opener in Mumbai… and so Star that broadcasts the game asked me to get involved in its singing," Big B wrote on his official blog. The Paa star also shared that "the song has been written by Piyush Pandey the iconic Advertising Guru and dear friend… and it had been recorded as per the tune dictated by the channel".
Amitabh has improvised the song by adding his bit to the track, which is out in Hindi and Marathi language. "I felt though that it was a bit slow keeping in mind the pace of the game and so I composed a faster version, and recorded it at my dear friend and music director Aadesh Srivastav's studio… this has now gained approval and shall be on air or on the net by tomorrow morning IST… there are, therefore, 4 versions sung by me – 2 original in Hindi and Marathi ad 2 my compositions in both languages." "The song is penned by Piyush Pandey and the song was recorded at music director Adesh Srivastav's studio." Big B shared on his official blog.
"We are delighted to partner with Mr. Amitabh Bachchan for the second season of Star Sports Pro Kabaddi, to help galvanize the sport across the nation," Star India CEO Uday Shankar said. The idea was to combine the martial energy of the great India sport with the great Indian tradition of 'Veer Ras,' one of the nine emotions or 'Navrasas' of our culture.
Venues of the Tournament: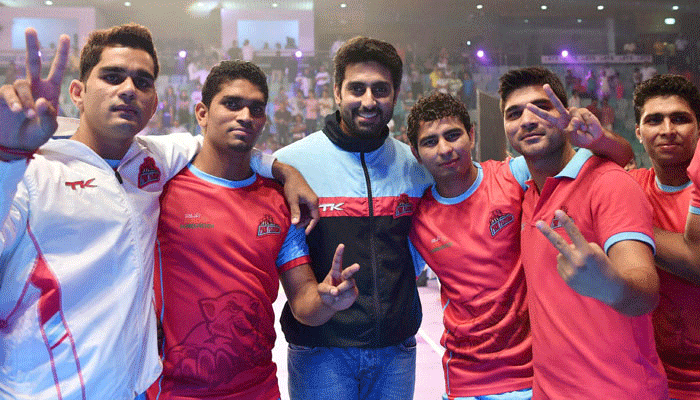 As many as 60 matches will be played and each team will play two matches with every other team. Abhishek Bachchan's Jaipur Pink Panthers are title defenders and the matches will be played in Bengaluru, Delhi, Hyderabad, Jaipur, Kolkata, Mumbai, Patna and Pune.