Australia Vs India 1st Test Match at Adelaide Result Highlights
India went down to Australia by 48 runs in the first of four Tests despite Virat Kohli's 141 and Murali Vijay's 99. Nathan Lyon shone for the hosts with figures of 7/152 at the Adelaide Oval.
Michael Clarke said, The boys deserve a lot of credit to keep trying to win the game. The were willing to lose to win. I thought if India were good enough to make 360, all credit to them. But credit to our boys, and our bowlers. We did Phillip (Hughes) proud.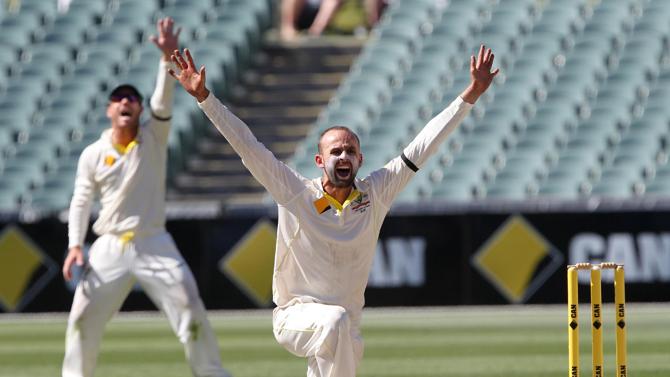 Virat Kohli said, All credit to Australia for coming out to play after what they went through the last 10 days. Love playing vs the Aussies because they play the way I believe in. I believed we could chase down whatever target Australia set us. Had Vijay and I added 200 for the 3rd wicket, we could have had a different result.
1st Test, Day 5 Highlights :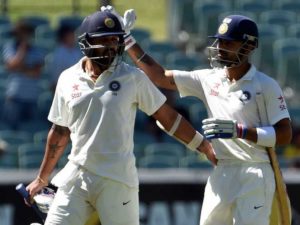 India are 41/1 off 14 overs and both Vijay and Pujara are looking very assured in the middle.
India are at a precarious 57/2 in the 20th over. Virat Kohli joins Vijay in the middle.
Virat Kohli has come out and batted with a lot of aggression today. The onus is on him to steer India and he has found great company in a solid Murali Vijay. India are 97/2 off 30 overs.
Fifty for Murali Vijay, his second of the Test and 8th overall in 28 matches. This has been a superb knock by the opener as India move to 116/2, chasing 364 vs Australia.
Kohli and Vijay are closing in on hundreds with India on 199/2. An Indian win is looking more and more likely with every passing over now.
:India are 205/2 at Tea on Day 5, chasing 364. The visitors struggled to make any breakthrough in the second session as Vijay and Kohli plundered quick run.
Vijay OUT FOR 99! He had looked nervous for the last few deliveries he faced and finally perished to Lyon.
FOUR! Kohli cuts Johnson and races away to 121, his highest score in Test cricket and then follows it up with another FOUR! as if to celebrate. India 273/4.
What a match this has turned out to be though and it's still not over. India are 309/7 and need 55 from a possible 14 overs.
WICKET! That's the end of this Test. Nathan Lyon finishes with 7/152 as Australia beat India by 48 runs to go 1-0 up in the four-match series.
1st Test, Day 4 Highlights :
Rohit and Saha have started slowly here. Just eight runs off six overs so far. India 377/5 vs Australia (517/7 decl.)
FOUR! Rohit Sharma dances down the track and hits a Lyon delivery over the mid-on fielder for four. India 399/5 vs Australia (517/7 decl.)
OUT! Rohit Sharma is gone as Lyon takes a good, diving return catch off his bowling. Rohit is gone for 43. India 399/6 vs Australia (517/7 decl.)
OUT! Peter Siddle cleans up Karn Sharma, who looked to play across the line and the ball travelled through his bat-pad gap and crashed onto the wickets. India 406/7 vs Australia (517/7 decl.)
OUT! Wriddhiman Saha is gone! Big, big wicket, that! He's caught at first slip by Shane Watson off Nathan Lyon. India 422/8 vs Australia (517/7 decl.)
Ishant Sharma starts from the other end and continues to come round the stumps. Warner and Rogers in no hurry for runs. Australia 517/7 dec. & 2/0 vs India (444)
FIFTY for David Warner! His 14th in Tests. Australia (517/7d & 93/1) lead India (444) by 166 runs on Day 4.
India have done well to keep Australia's scoring rate under check since tea. Despite Warner being in the middle, Australia have managed 43 runs in 12 overs. Australia 182/3 vs India, lead by 255 runs.
Century for David Warner! His second of the match. What an exceptional player, this man.Australia 195/3 vs India, lead by 268 runs
Stumps!Australia finish on 290/5, lead India by 363 runs. Warner scored another wonderful century and Steve Smith kept his form going with an unbeaten 52.
1st Test, Day 3 Highlights :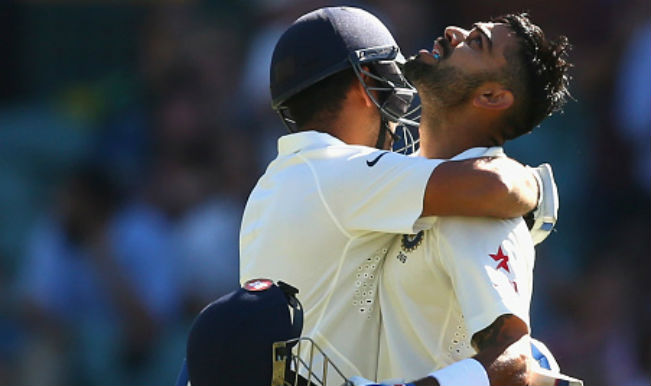 Back-to-back FOURS! Johnson pitches the ball up and invites Pujara to drive, who obliges and dispatches the ball through covers on both occasions.India 59/1 vs Australia (517/7).
100 up for India! It has come in just 24 overs. Vijay (49) and Pujara (24) have added 70 runs for the second wicket.
OUT! Murali Vijay is gone! He stays on the back foot and edges a Johnson delivery to Haddin behind the stumps. He falls for 53. India 111/2 vs Australia (517/7).
End of 1st session! India take lunch at 119/2 in reply to Australia's 517/7 decl. Murali Vijay looked solid for his 53 before he was dismissed by Johnson just before lunch. Pujara, batting on 34, has also settled in well with skipper Kohli for company.
Harris offers room outside the off-stump and Pujara cuts it behind point for four. What a shot from a man in form.India 171/2 vs Australia (517/7).
OUT! Cheteshwar Pujara (73) is gone! He is bowled by Nathan Lyon. India 192/3 vs Australia (517/7).
1st Test, Day 2 Highlights :
Full ball drifting onto the pads, short and wide outside off-stump – it's all too easy for Clarke at the moment. Bring Aaron early and asking him to bang it in short to the Aussie skipper could be an option for Kohli.
India's inaccurate bowling is making life easier by the minute for Clarke. Kohli brings Varun Aaron into the attack. Aus 390/6
Aaron bowls one at 144 kmph, gives Kohli a reason to smile for the first time in the day. Kohli will hope Aaron tries and maintains his line and length today.
 It's raining in Adelaide! Covers are coming on as Steve Smith – two runs short of his fifth Test ton – and Michael Clarke – on 85 – are walking off. Kohli won't mind the break. Aus 405/6.
Second session begins and straightaway Steve Smith gets to his 5th Test ton. He walks up to the spot in the ground which has "408" painted on it and raises his bat to that before looking skywards.
OUT! Michael Clarke is gone! Karn continues to spin the ball from outside the leg stump and Clarke goes down on one knee and tries to pull the ball but hits it straight to Cheteshwar Pujara at square leg. He departs for 128. Aus 517/7.
Bad light halts play! Players have walked off the field again, this time due to fading light conditions.
1st Test, Day 1 Highlights :
FOUR! Warner continues to play through covers on a swift outfield. He moves on to 94. Aus 161/2.
Century for David Warner! What an emotional moment for the Aussie! He is almost in tears as he kisses the Australian logo on his helmet. Australia 171/2. Warner now has five centuries and three fifties in his last 10 innings. What a champion!
FIFTY for Michael Clarke! It's his 28th in Tests. Australia 182/2
Karn Sharma is not enjoying a great debut. He can't earn a vital breakthrough for his skipper and Warner is taking him on. Aus 233/2.
300 comes up for Australia: Steve Smith brings up his 9th Test fifty while Marsh is also looking set for a milestone of his own.
Surreal proceedings at Adelaide as Steve Smith reaches 63. The crowd breaks into a continuous applause. Smith looks skywards. Aus 336/2
OUT! Mitchell Marsh (41) is gone, caught by Virat Kohli in the slips. Australia 345/4
Oh dear! Varun Aaron is limping and Ishant is definitely tiring here. Just five overs to go in the day.
OUT! Nightwatchman Nathan Lyon is gone for 3. Mohammed Shami cleans him up. Australia 352/5
354/6 (89.2) Overs.
Press CTRL+D right now to bookmark this website. Here we provide all the information about Job notification, Admit cards for exams, Materials and previous question papers for exams, Results declared. Stay tuned for this website for more updates.