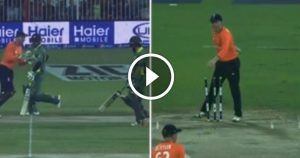 Most Hilarious RUN OUT Again Of Mohammad Hafeez In 3rd T20 Vs England
This was the hilarious run-out of Pakistan batsmen in the third T20 between Pakistan and England. In the very first over, Mohammad Hafeez was in a hurry. Hafeez was the striker and he was unlucky when he ran for the second run. Rafatullah Mohammad was the other batsmen with Hafeez who converted a run into a run-out.
In the second T20, Umar Akmal was dismissed in the same way which repeated in the third T20. There is a lot of confusion between the Pakistan players which led to fall of the wickets. However, Hafeez was given out. Maybe Hafeez got motivated with Akmal's run-out, he decided to get out in a similar manner.
Also Watch: Funniest Run-Out Involving Umar Akmal And Sohaib Maqsood In 2nd T20