India Vs Australia 2014-2015, 1st Test Day 2 Highlights Live Scores and Updates
Australia, who won the toss, lost some late wickets and reached the close at 354 for six with Steve Smith leading the way on an unbeaten 72. Brad Haddin was out for a duck in the day's final over. While Australian batsmen batted beautifully against Indian pacers and spinners, there was also concern when skipper Michael Clarke retired hurt on 60 with a back problem.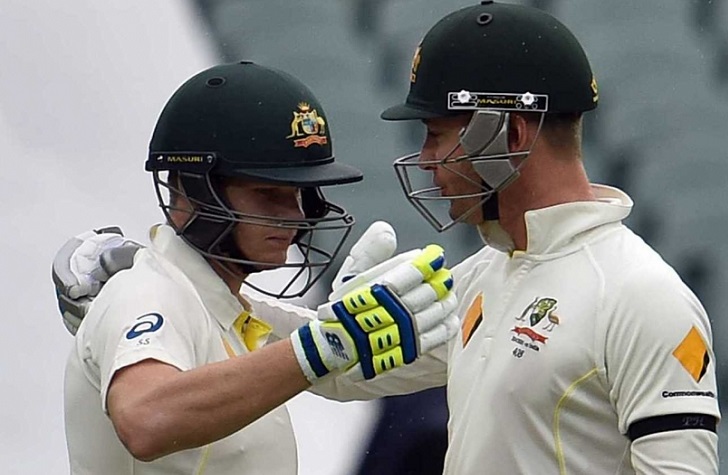 'Injured' Michael Clarke returned to post an emotional century and forge a solid stand with Steve Smith as Indian bowlers continued to toil. Michael Clarke battled through severe back pain to make his 28th Test hundred, Steven Smithscored his fifth and the pair punished India's inconsistent bowlers on a second day badly hit by rain.
There were more frustrations as rain kept interrupting play at regular intervals as only 31 overs were bowled on Day 2. India were lacklustre with the ball, enabling Clarke and Smith to get to triple figure scores and take the total past 500 runs.
Clarke, who had taken injections after retiring on 60 in the 44th over on day one, accompanied Smith out under gloomy skies in a start delayed by ten minutes.  India were unable to test even a half-fit Clarke. Their fast bowlers had been too full and wide at the start of the match. This morning, they pulled their lengths back too much. Ishant Sharma, their best bowler on day one, started short and wide to be put way for four by Smith. Mohammed Shami did the same first ball of the next over, and Clarke helped himself this time.
Highlights of  India Vs Australia 2015 1st Test – Day 2 :
Great news for the hosts! Michael Clarke walks out to bat with Smith on Day 2.
Full ball drifting onto the pads, short and wide outside off-stump – it's all too easy for Clarke at the moment. Bring Aaron early and asking him to bang it in short to the Aussie skipper could be an option for Kohli.
India's inaccurate bowling is making life easier by the minute for Clarke. Kohli brings Varun Aaron into the attack. Aus 390/6
Aaron bowls one at 144 kmph, gives Kohli a reason to smile for the first time in the day. Kohli will hope Aaron tries and maintains his line and length today.
 It's raining in Adelaide! Covers are coming on as Steve Smith – two runs short of his fifth Test ton – and Michael Clarke – on 85 – are walking off. Kohli won't mind the break. Aus 405/6.
Second session begins and straightaway Steve Smith gets to his 5th Test ton. He walks up to the spot in the ground which has "408" painted on it and raises his bat to that before looking skywards.
Stumping chance missed! A lifeline for Smith as Wriddhiman Saha fails to collect the ball cleanly and force a stumping. Aus 458/6.
It's raining again! Covers are back as players walk off again. Australia 473/6.
OUT! Michael Clarke is gone! Karn continues to spin the ball from outside the leg stump and Clarke goes down on one knee and tries to pull the ball but hits it straight to Cheteshwar Pujara at square leg. He departs for 128. Aus 517/7.
Bad light halts play! Players have walked off the field again, this time due to fading light conditions.
Don't hesitate to contact us if you feel you need any information. Any queries please comment below, we will get back to you with the appropriate information as early as possible. We are inviting candidates to give us a feedback on every article you read and how that helped you. So, that we can improve our approach and reach the visitors in much attractive and better manner.
Press CTRL+D right now to bookmark this website. Here we provide you information about the movie gossips round the film industry. Updates about sports you can check here. Stay tuned for this website for more updates.