Switzerland Wins Davis Cup Final, Roger Federer Dedicates The Victory To His Teammates
Federer added that he was happy to be able to become a part of such a historic moment for Switzerland. It took Federer 15 long years to succeed in the Davis Cup. After defeating Gasquet of France, 6-4 6-2 6-2, Federer fell down on his knees, lied face down on the clay court, and then hugged Swiss team captain Severin Luthi and his other teammates
Federer, who spent 302 weeks at the top of the game, shed a few tears before receiving his trophy and enjoying a lap of honor with his teammates. But emotions were not as strong as they were when he won his first Grand Slam title in Wimbledon in 2003. Federer, who lost his singles rubber to Gael Monfils on Friday, played an inspired match as he crushed Gasquet, who replaced Tsonga due to an arm injury. In front of a passionate crowd of 27,448 – a world record for a competitive tennis match – Federer dropped only four points on his imperious serve in the opening set, which he sealed with a whipping forehand winner.
It took 15 years for the former top-ranked Federer to achieve Davis Cup success after making his debut in the event in 1999. No wonder he looked so emotional after converting his first match point, falling to his knees and lying face down on the court before hugging team captain Severin Luthi and his teammates.
Roger Federer Dedicates Win To His Team Mates: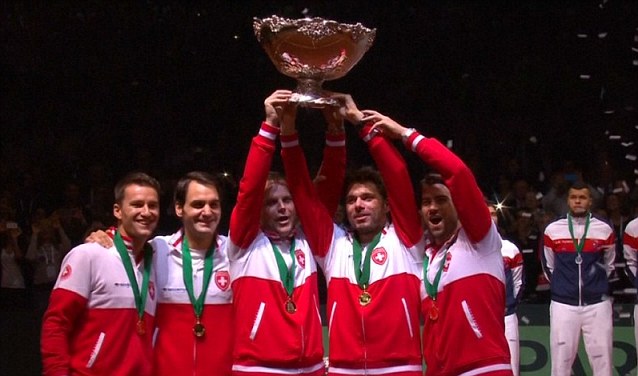 This one is for the boys, said Federer, who was in tears at the end of the match. "This is not for me, I have won enough. I am just happy we can give everyone in our country a historic moment."
"Of course, there was the pressure of being able to manage all this and make everyone happy with all the support we had for the team and everything. So it is a totally different feeling. Also I was not alone on the court. This changes everything."
"At the end, it's a tennis match, you feel great emotions. You're unbelievably happy and relieved," said a joyful Federer. "We wanted this clearly very badly, especially being up 2-1. You inch yourself closer and closer. Clearly seeing Stan out there, the rest of the team supporting you, gives you an extra push. It was definitely one of the better feelings in my career, no doubt about it. So much nicer to celebrate it all together."
Another couple of breaks saw him serve out for the match and he finished it in glorious style with an exquisite drop shot, before falling onto the clay face forward and being hugged by his team-mates. Federer looked overcome by emotion at the end, after this rare new new experience for him. He is a remarkable athlete for our times.
Federer and the rest of the boys dressed up in nice suits as they attended the Davis Cup champion's dinner. The official account of Swiss Tennis has shared a snap of the boys on Twitter. Other tennis players also extended their congratulatory messages for the Swiss team on Twitter.
Press CTRL+D right now to bookmark this website. Here we provide you information about the movie gossips round the film industry.General awareness infortation about the every thing is available here.  All previous Question papers for SSC, RRB, IBPS, IAS (civils), Groups, IES are available in www.allindiaroundup.com. Here we provide all the information about Job notification, Admit cards for exams, Materials and previous question papers for exams, Results declared. Stay tuned for this website for more updates.