[WATCH VIDEO]: Upul Tharanga Gets Out in The Most Bizarre Way Possible, Credits To Abhinav Mukund's Fielding
Riding on Shikhar Dhawan and Pujara's massive centuries, India posted a staggering total of 600 runs in the first innings of the first Test against Sri Lanka. In response, Lankan batsman Upul Tharanga tried to keep the scorecard ticking but astounding efforts from Abhinav Mukund and Wriddhiman Saha's restricted Tharanga making him leave the pitch at the mere 34th over.
But, the fascinating thing about the moment is the way he was run-out. It can be assumed that it is the most bizarre run-out that ever took place in the history of Test cricket.
The game has turned onto India's side right from the beginning. Despite the eye-feast bowling from Nuwaan Pradeep, nothing seemed much interesting from Sri Lankan's side.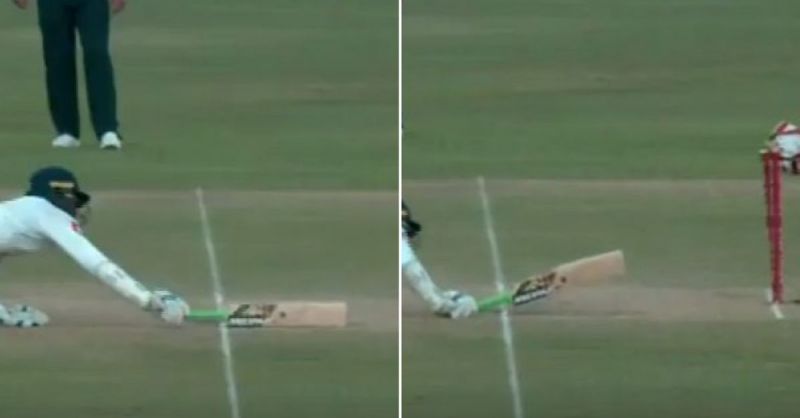 However, the 32-Year-Old Upul Tharanga managed to add few runs to the team, he somehow, unfortunately, lost his wicket in the most bizarre way during the 34th over. The surprisingly perfect fielding from Abhinav Mukund and instant hit by Wridhiman Siha restricted the player at 64 runs.
This happened in Ravichandran Ashwin's bowling. The whole thing happened in a matter of seconds. Hail Abhinav Mukund and Wriddhiman Saha's precise take on the ball.
Coming to the situation, though Tharanga managed to ground at the crease with the help of a dive, his bat was caught in mid-air as his hand touched the ground. Just then, Saha managed to dislodge the bails as soon as he collected the ball and with that, Tharanga's innings came to an end all of sudden.
Watch The Video Here:
Related Article: Twitter Hails Shikhar Dhawan, Pujara And Trolls Virat Kohli, Abhinav Mukund For Poor Batting