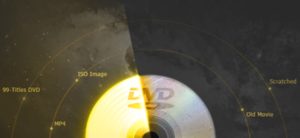 Convert Unlimited Number of Discs To Digital | WinX DVD Ripper Platinum Review
Have you ever invested heavily in DVD discs over the years, and now wondering what to do with that physical media? Also, DVD players leave the market and DVD drives disappear from PCs, it's time to free your films. Why are you still dropping a DVD disc in the DVD player and spending time dealing with discs when you can simply watch programming on your set-top box with just a few taps on a screen. Yes! you can now convert Old DVD discs to the new movie by digital copies i.e; in simpler words, digitize DVDs and keep them safe instead of messing up your room.
Once you convert your movie library into digital files, you can store those files on a server and stream them anytime, from anywhere. It is feasible and convenient to rip DVD to Digital by using WinX DVD Ripper Platinum.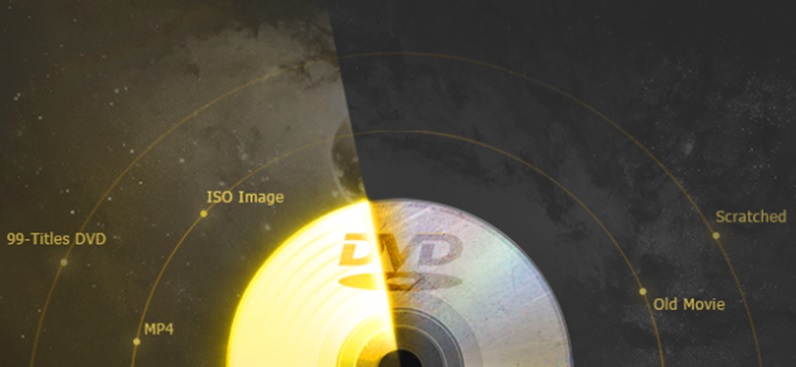 Rip Old DVD Disc To New Movie Digital File For Free:
In order to turn DVD into a digital file to watch on your favorite platform, you have to rip it from the disc. With Dvip ripping, you can copy content from CD's to PC and then convert into the cloud-friendly format. However, in order to this conversion, obviously, you must have access to a PC with a DVD drive. Also, it might endorse piracy or any other illegal activity that might occur while using these programs.
In order to remove the Content Scrambling System (CSS) or similar built-in protections that prevent straight-up copying, you can buy a commercial ripper like WinX DVD Ripper Platinum.
Or join the share to win the campaign with WinX DVD Ripper Platinum 6-month full code.
It is the best solution to rip any DVDs in just a few clicks legally. This WinX DVD Ripper Platinum is a Windows-based DVD ripping program for copying and transcoding DVD discs, disc images or simple file copies from a DVD. Conversion is possible into multiple common video/audio formats and it is also capable of removing DVD copy protection. It is developed by Digiarty Software Inc.
WinX DVD Ripper Platinum: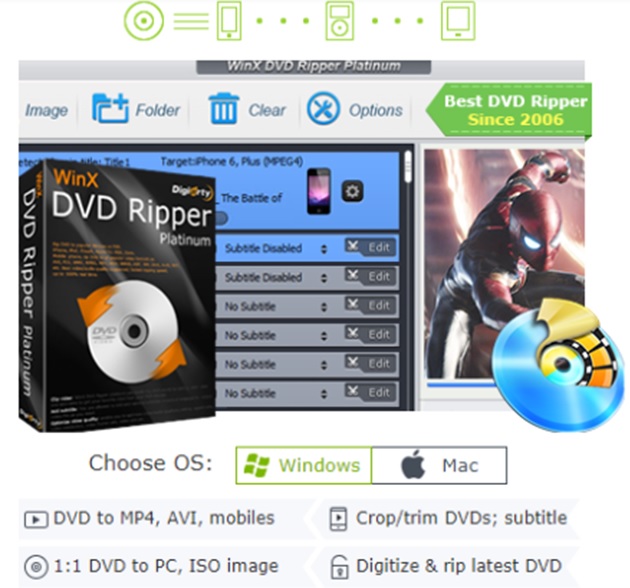 This software is capable of ripping any DVDs images to the hard drive, such as rip DVD to MP4, H.264, AVI, HEVC, MPEG, MOV, and M2TS. Also, it converts DVDs for playback on Apple (iPhone, iPad, Apple TV, iTunes), Android (Samsung, Huawei, Nexus, Kindle), Microsoft (Xbox, Windows Phone, Surface), Sony, and enables you to copy DVD library to Plex Media Server, NAS drive, etc. It gives the best possible picture and sound quality while ensures the smallest possible output file size.
Although, WinX DVD Ripper Platinum charges for a one-off lifetime license fee, after which you won't pay another penny for future upgrade. It is the unique DVD ripper to convert any DVD digital for the best price.
How to Use WinX DVD Ripper Platinum to Rip DVD Disc to Movie File?
It is pretty easy to convert discs to digital with WinX DVD Ripper Platinum.
Firstly, download the free DVD ripper and install in your windows PC.
Insert the disc in your drive and launch the software.
The Hardware encoder will be automatically clicked if your PC supports it. You may select the CPU Core (Up to eight) to accelerate the disc to the digital conversion process. Till now, WinX DVD Ripper is the first one to support level 3 hardware accelerator to speed up the DVD disc to movie ripping process. You may select CPU core (Up to eight) to accelerate the disc to the digital conversion process.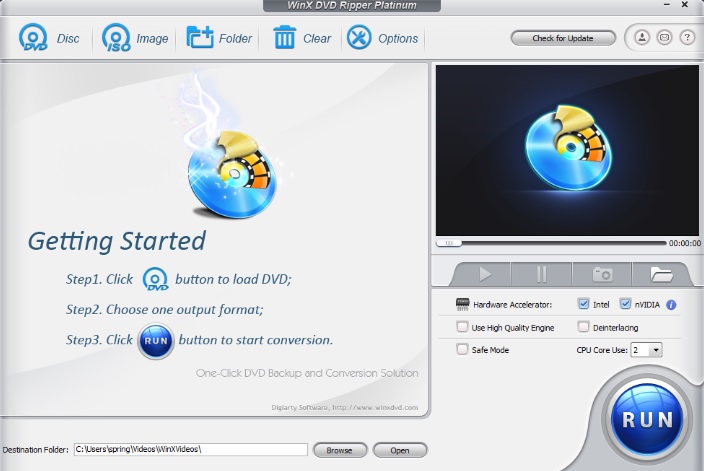 Next, Load your disc by clicking on the "Disc" Button.
Make sure the exact source DVD is selected in case if you have more than one disc drive. Leave the DVD disc file system type as 'Auto detect' and click 'OK'. (Also support ISO images and DVD folders).
Now, Choose a format. However, DVD to MP4 is the default option and is the best choice for playback on most devices.
You can choose to rip your discs in high quality (which takes longer) or lower quality (which is faster) by using the slider at the top right and click on OK.
Later, start ripping DVD disc to movie digital conversion.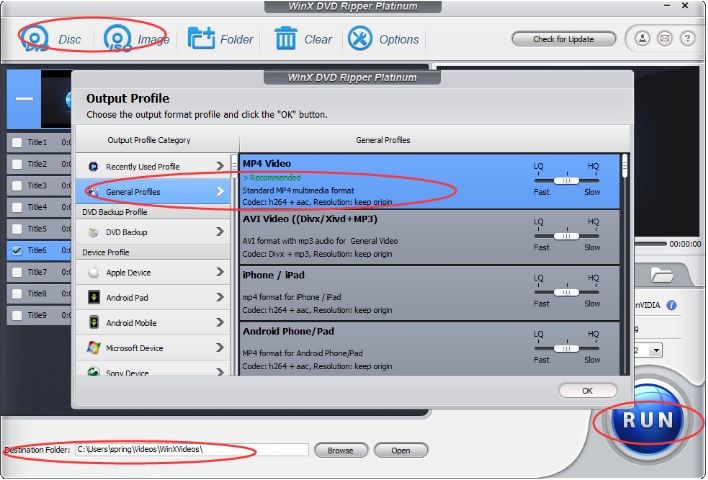 WinX DVD Ripper Platinum will analyze your disc to see whether it's protected by DRM. It will also detect the DVD main title, enabling you to convert just the movie itself, without any annoying ads or trailers.
Later, start disc to digital conversion.
WinX DVD Ripper Platinum will select the longest one automatically.
If your disc has subtitles, you can include them in the converted video by clicking 'Subtitle disabled' and choosing a language option. Choose a destination folder for the converted video (your Videos directory is selected by default) and then click 'Run'.
Now, the hardware acceleration is enabled and the DVD is converted into digital.
Once the conversion process is done your destination folder will open, and the finished MP4 file will be there, ready to play.
Key Features:
The advantage to using hardware accelerator (video encoder/decoder) in DVD to movie conversion:
We have compared many competitors in the market, now WinX DVD Ripper Platinum is the strongest;
the fastest Disc to Digital software; the only DVD Ripper that supports Level-3 Hardware Acceleration.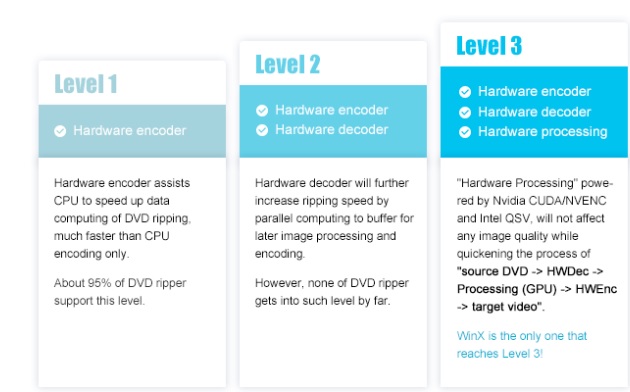 The Only DVD Ripper with Level-3 Hardware Acceleration:
The exclusive Hardware Processing Tech powered by Intel QSV and NVIDIA NVENC/CUDA speeds up DVD ripping by at least 50% while keeping maximum video quality, preferable output file size and lowest CPU usage. Even a low-end computer can convert a DVD in about 5 minutes only.
Here the developer has explained more on why we need hardware acceleration in DVD to digital processing.
Backup DVD without any quality loss:
1:1 Clone DVD to ISO image, DVD folder
Main title content copy, full title copy
Backup DVD to a MPEG2 file in 5 minutes