ISRO's GSAT-6A To Be Launched On March 29 – Find Details
New Delhi: ISRO (The Indian Space Research Organisation is ready to launch its new communication satellite – GSAT – 6A on Thursday, March 29, 2018. The place from where the satellite will take off is set to be Satish Dhawan Space Centre in Andhra Pradesh' Sriharikota at the time 16:56 hrs (4:56 pm) IST. Its predecessor was GSAT-6 and this time the GSAT-6A too is a high power S-band communication satellite.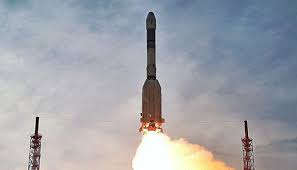 What Is The Purpose Of Building GSAT-6A Satellite?
The GSAT-6A is classified as a high power S-band communication satellite. With its launch, it will become India's second predominantly S-band communications satellite. The first one was the GSAT-6. The latter will complement the former one. The GSAT-6 is in orbit since August 2015 at 83 degress East longitude.
The main purpose to build the satellite is to provide a platform for new technologies being developed, for example 6m S-Band 'Unfurlable Antenna', handheld ground terminals and network management techniques. These all equipment's are very useful in satellite-based mobile communication applications. The GSAT-6A launch will be ISRO's last one to be launched for the financial year 2017-18. ISRO Chairman K Sivan has already confirmed that the GSAT-6A launch would soon be followed by the launch of a navigation satellite which will happen in the next fiscal.
Regarding The Lifespan Of The GSAT-6A Mission – And The Total Cost Of The Project –
According to ISRO, the total life span of the GSAT-6A mission will be about 10 years. The cost of the 2-tonne satellite project is approximately rupees 270 crores.
What Is The Use Of 'Unfurlable Antenna'?
ISRO's 'unfurlable antenna' is a six-meter-wide antenna which almost looks like an umbrella. This can be  'unfurled' once the GSAT-6A satellite is set into the orbit. This is a very special antenna, which was designed for the mission, and is three times as broad as the antennas that are usually used by ISRO. This antenna will enable mobile communication from anywhere via hand-held ground terminals. Apart from communications, the GSAT-6A satellite is believed to be specially designated for military use as well.
What Is Meant By S-Band? How Is IT Going To Prove Useful?
S-band is an electromagnetic spectrum covering frequencies which are from 2 to 4 gigahertz (GHz). It crosses the conventional boundary between the Ultra High Frequency (UHF) and Super High Frequency (SHF) bands at the rate of 3.0 GHz. S-band is used by weather radars, surface ship radar, and also by some communications satellites. S-band is very useful because the 2.5 Ghz band is specially used globally for 4G services, and is worth billions of dollars. The S-band spectrum is also extremely valuable for mobile broadband services.
What Are Some Of The Salient Features That Define GSAT-6A Satellite?
It will help provide special mobile communication for India through multi-beam coverage facility. It shall have S-band in five spot beams and C-band in one beam. It will have a 6m diameter 'unfurlable antenna' that will provide user communication link. It also has a 0.8m fixed antenna which provides hub communication link. The overall size of the GSAT-6A satellite is measured as 1.53m X 1.65 m X 2.4 m.
You May Also Read: More Bad Loans In Store As MUDRA, Kisan Credit Card Loans Face Scrutiny In Bihar's 500-Cr Fraud