LG Launched Flip Phone 'The Wine Smart': An Android 5.1.1, 4G Supported and More
LG launched a new flip phone, the Wine Smart which targets global consumers who are still loving and attracted to folder or flip phones. The speciality of the phone is that it is designed with Android OS. The launch in South Korea was breaking and gaining huge response from the unusual custom to launch such flip phones in the market.
LG Wine Smart will be released and make its international debut later this month in countries including France, Italy, Poland, Spain, Kazakhstan and Japan, among others. The earlier flip phones had been used for only making calls and playing few games. But this LG Wine Smart comes with Android 5.1.1 Lollipop which means it works same as other smart phones.
Design and New Look: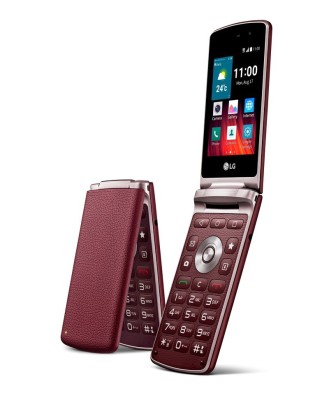 Hence we can download apps from Google Play and all the usual Android features are preinstalled. In its press release, LG admits that Wine Smart has been crafted for a generation of users who are more accustomed to the feel of flip phones. The Wine Smart also comes with LG's Safety Care feature which can be set to automatically transmit emergency alerts and real-time location to pre-selected contacts whenever the user needs immediate assistance.
The company said, "Thanks to the positive response to the original Wine Smart introduced in Korea last year, LG optimised the latest model with more advanced multimedia features to make the transition from feature phone to smart phone as seamless as possible." LG officials have said that the pricing and availability of the new flip phone will be announced locally at the time of launch.
Features and Specifications:
For specifications, the new LG Wine Smart features are identical specifications to the recently announced LG Gentle. Unlike some flip phones that sport dual-screens, the 'LG Wine Smart' smart phone features a single 3.2-inch LCD touch screen with a resolution of 320×480 pixels. It runs with Android5.1.1 Lollipop and is powered by a 1.1GHz quad-core processor alongside 1GB of RAM.
https://www.youtube.com/watch?v=rmHNZBVckYA
There is also 4GB of inbuilt storage on board and the LG Wine Smart flip phone supports expandable storage through microSD card. The phone sports a 3-megapixel rear camera with LED flash, with a 0.3-megapixel front camera and It bears a 1700mAh battery. Apart from 4G LTE, the LG Wine Smart includes Wi-Fi, Bluetooth, Micro-USB, and 3G connectivity options. It measures 117.7×58.7×16.6mm and will be available in Navy and Burgundy colours.
"Our goal with LG Wine Smart was to create a smart phone that fans of flip phones could embrace. Consumers shouldn't have to miss out on the smart phone revolution because they prefer a particular phone design over another. With LG Wine Smart, they won't have to" said Chris Yie, Vice President and Head of Marketing Communications for LG Mobile Communications Company.
Detailed Specifications:
Chipset: 1.1GHz Quad-Core
Display: 3.2-inch HVGA (480 x 320)
Memory: 4GB ROM / 1GB RAM / MicroSD
Camera: Rear 3MP / Front VGA
Battery: 1,700mAh (removable)
Operating System: Android 5.1.1 Lollipop
Size: 117.7 x 58.7 x 16.6mm
Weight: 143g
Network: 4G LTE / HSPA+ 42Mbps (3G)
Connectivity: Wi-Fi 802.11 b, g, n / Bluetooth 4.1 / USB 2.0
Colors: Burgundy / Navy