India Batting Legend Sachin Tendulkar World Cup Predictions Shocked Everyone
The Indian cricketer, Sachin Tendulkar has given us one more reason in addition to the already countless list. The batting legend bowled over his fans in the video that's gone viral where he presents predictions regarding semifinalists to defending champions India's form in the 2015 Cricket World Cup with hundred percent accuracy! These Predictions makes us speechless as these the predictions were made in the previous year in November 2014 during the release of autobiography 'Playing it my Way'but not in a day or two before.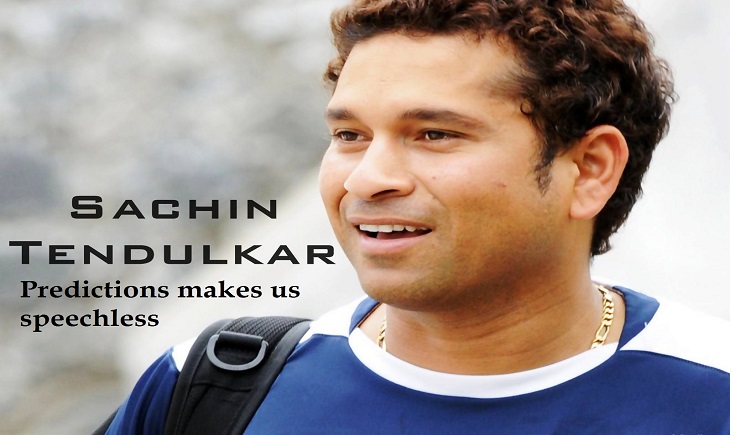 The video that has been viral on the social media was then when Sachin Tendulkar during the launch of his autobiography "Playing It My Way" along with Nasser Hussain at Lord's Cricket Ground in London. In the Q&A session, Sachin on being asked about the winner of ICC Cricket World Cup 2015, the Little Master picked his four semifinalists – Australia, South Africa, New Zealand (calling them dark horses) and India. And we all now got to know about the same semifinalists team three months later ie. on March 21!
Sachin Tendulkar God of Cricket World Cup Prediction:
Not Only the Predictions regarding the semifinalists he also added that "going by the looks of current England cricket team's performance, he does not think they stand a chance but was gentle to add that anything is possible in sport" when the curious journo, who we assume in the video to be English felt a little disappointed on Sachin not naming England as the four semifinalists, asked him about the same. This was the pinpoint accuracy forecasted by Master Blaster Sachin.
Watch this video which contains more exciting bit of news regarding Tendulkar's remarks over Indian team performance, their ability to surprise the opponents and the role of spinners in ICC World Cup 2015.
If you don't believe us, check out the video: