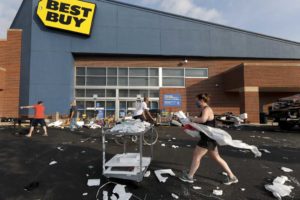 Chicago Police Arrest Over 100 BLM Protesters For Looting Luxury Stores, Causing Damage To Property, And Clashing With Officers
The Chicago police have arrested over 100 people after Black Lives Matter protesters swarmed Chicago's luxury commercial district early Monday.
The looters went on to loot stores, smashing windows, and clashing with officers for hours.
The Police Superintendent David Brown called the incident as criminality.
Mayor Lori Lightfoot sought to distance the incident from the "righteous uprising" in response to the death of George Floyd.
Mayor Lori added:
You have no right to take and destroy the property of others. We will not let our city be taken over by criminals and vigilantes, no matter who they are and what they're doing.
Floyd was killed at the hands of Minneapolis police on May 25, 2020.
Officer Brown said:
This was not an organized protest. Rather this was an incident of pure criminality.
At least 13 police officers were injured in the incident.
A security guard and a civilian were also struck by gunfire during the encounter.
Images that were shared on social media showed empty stores.
It is said that people flee stores with arms full of goods.
Most of the incident happened along Michigan Avenue, the upscale commercial district in Chicago that is also known as the Magnificent Mile.
Brown said that protesters were encouraged to loot in Central Chicago after the news broke out of a man with a gun shooting the police.
As the police questioned a 20-year-old man, he fled and fired at the pursuing police officers.
Police returned fire and shot the young man
The unidentified man was rushed to a hospital, he is expected to survive.
Officer Brown said that a crowd gathered after the shooting. Misinformation about the incident was shared on social media, and as a response, people started to loot shops in the area.
The police ended up sending 400 officers into the area, where they were met by caravans of people arriving in cars.
A man was also arrested for carrying a cash register.
The police were fired when they tried to arrest the looters.
It is reported that the police were also shot at by a passing vehicle as they tried to arrest people that were robbing stores.
The police in Chicago have assigned officers to 12-hour shifts and canceling days off to track the people that are involved in the looting and firing at the police.
Downtown access will be restricted from 8 p.m. to 6 a.m. from now on, said the authorities.