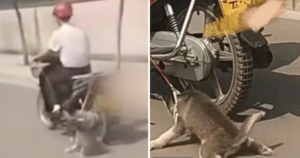 Husky dragged on the road while tied to a scooter in China
Recently, a man in China was seen dragging his pet husky on the road while the poor animal was tied at the back of his scooter.
The poor little doggy was harassed and whining while it was being pulled by the owner in Pu'er City, which is located in the Yunnan province of China.
The person who shot the video said that the husky was bleeding and added that the dog was dragged for some time.
The man said that he saw the brutal act when he was waiting for a red light.
During an interview with Pear, a news website, the person who took the video said, 'The lower part of its body was bleeding.'
He added, 'It is possible that the dog was dragged for a long time.'
When the video was shared on Weibo, a famous social media platform in China, it brought in a number of comments about the animal abuse.
One user said, 'Such inhumane actions! Such a poor dog.'
Another user said, 'If you don't want your pet anymore, just put it up for adoption. Don't abuse it like this.'
A third user said, 'How can there be such a cruel person in the world?'
The daughter of the driver released an apology after the video went viral.
The daughter of the driver said, 'The dog was put under my family's care as I had to work that day.'
She added, 'Unfortunately the elderly members of my family did not know how to take care of it properly. I am sorry. I didn't take good care of my dog. I love it very much and I promise to take good care of it in the future,' she said, adding that she had immediately taken her pet to a vet.'
Keith Guo, the PETA Asia media officer, said, 'If owners don't have time for their pets, we'd rather they not bring them home.'
He added, 'Even if you place the pet under the care of other people, tragedies like this may still occur. The poor dog was mistreated because its owner did not have time to take care of it.'
Keith also talked about the condition of the dog in the video, he said, 'The dog's paws and stomach were bleeding – there is no excuse to justify or defend such brutal actions. I hope the owner can spend more time with her pet and help her father realize it's not right to treat animals in an abusive manner.'