Loving Cat That Raised Dog From A Puppy Licks Pooch Every Night Before Going To Bed
A clip that is viral on social media right now shows a cat licking her canine daughter and social media users are just happy right now.
It is said that the cat raised the dog when she was just a puppy and the feline licks the pooch every night before going to bed.
Alfredo, the caring cat, took a dog named Pic under her care when she was just 8 weeks old.
She raised the dog as if she were her own offspring.
The owner of the 2 animals says that the cat and the dog have a nighttime routine in which Alfredo affectionately licks the dog before they go to bed.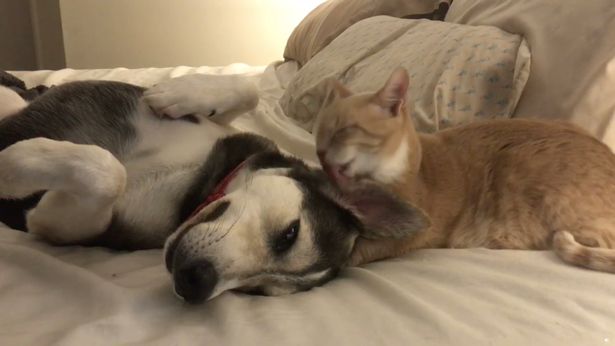 The entire video was shared on Reddit, and people are just loving it.
The owners shared the clip while saying: "Alfredo (cat) raised Pic (dog) from she was just 8 weeks old. They do this every night before bed."
The video showed Pic lying blissfully on her back while Alfredo delicately licked her neck and ears.
The animals are in complete peace with each other and the entire thing is just so calming to watch.
Joey, the owner of Pic and Alfredo, shared the moments of the 2 animals on his account on Reddit, a social media platform.
Pic, which is short for Picasso, is a half husky and half Labrador dog.
Such an amazing video to share with everyone!
What are your thoughts about the video? Let us know what you think about it by leaving a comment in the comments section below!