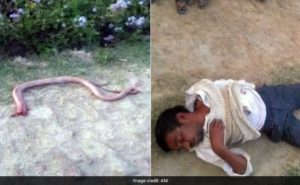 Man chews of snakes head in revenge of bite
New Delhi: "I've never observed such a case in my life," Hardoi's Dr Sanjay Kumar tells news organization ANI in the wake of treating a farmer who bit a snake to take "revenge." The specialist says he's stunned the man survives after biting the snake. The farmer, identified as Sonelal, allegedly bit off and let out the snake's head after it bit him.
He was hurried to a close-by medical facility after he was discovered unconscious in Uttar Pradesh's Hardoi. The specialist doctor treating him failed to identify any bite marks on the farmer's body, reports The Times of India.
On Saturday, the state-run 108 rescue vehicle at Madhoganj health centre got a call to race to the close by Shuklapur Bhagar town where a farmer had fallen unconscious, reports the Times of India. At the point when he regained consciousness, he was approached to clarify what occurred.
"The snake bit me, so I held its head and bit it off. So it died," Sonelal tells ANI. "At that point, I took it back to the town. I removed its head once more."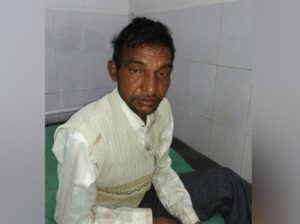 Observers additionally state they saw him ingest some portion of the snake, distinguished by some locals as a python.
Doctors at the community clinic tell the Times of India that they failed to discover any bite marks on the farmer's body. In any case, Sonelal's survival after biting a snake has left the doctors, and the townspeople stunned.
"He bit off a portion of (the snake's) head, but he was fine. I haven't seen something like this in my lifetime," a baffled Dr Kumar told reporters.