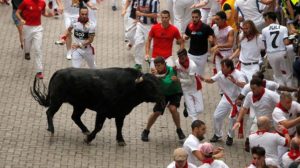 Red Cross Treated 53 Injured People During The First Day Of The San Fermin Bull Festival In Spain
53 people were treated by the Red Cross during the Running of the Bulls festival in Spain and 5 were rushed to a hospital nearby after sustaining injuries that were caused by the charging bulls.
The San Fermin Festival started on July 6 in Pamplona.
The festival started off by releasing 6 bulls off a half-mile course.
The first event was the first out of the 8 runs that will be held throughout the 9-day festival in Spain.
In the festival, Bulls are run every day for 9 days before they get killed in bullfights that are held in the afternoon.
The San Fermin Festival brings in nearly 1 million visitors every year, and so far this year, 5 people have sustained injuries that are being called as "gruesome".
In a report that was released by the Reuters, 53 people were treated by the Red Cross on the first day of the bull festival and 5 were brought to a hospital.
Reports suggest that a 23-year-old man from America was gored in his left leg, a 46-year-old man from California sustained a superficial neck wound, and a 40-year-old man from La Rioja, Span was also gored in his left leg.
One of the people who sustained head injuries was not conscious when the medical team was taking them away, but according to a local news agency, they gained their conscious back when they were in the ambulance.
From 1910 to the present, 16 people have been killed in the annual bull festival in Spain.
It is reported that around 200 to 300 people sustain injuries in the San Fermin Festival every year.
Animal rights activists were also seen in one of the arenas where the bullfights were being held in the annual festival.
The group saw a bull being speared to death.
Peter Janssen, of the Vegan Strike Group, said, "The bull was terrified and in excruciating pain – I couldn't leave him to die alone. We represent the majority of people around the world, who are calling for an end to this cruel event."
The annual festival started on July 6 and will run until July 15.