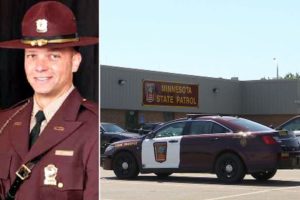 US Police Officer Took Car Crash Victim's Phone And Sent Her Nudes To Himself
A police officer from the United States of America has been charged after he took a car crash victim's personal phone and sent her nudes to himself.
It is said that the Minnesota State Trooper helped the woman after a car accident.
The 25-year-old victim was a suspect of drinking and driving, which is why she was brought into custody by the authorities.
When the 36-year-old trooper confiscated of her being naked, he sent them to his personal smartphone so he could use them for his personal enjoyment.
Local news agencies said that the trooper has been charged with felony stalking.
Albert Kuehne from Dayton faces two counts of stalking with bias due to the fact the victim was a woman, according to official court records.
If found guilty, he could face 10 years of jail time and a fine of $20,000.
The victim was detained by the authorities as a possible drunk driver. She was then brought to a hospital, where medical officers treated her and released her.
The incident came to light after the boyfriend of the victim used her laptop, which is linked to her mobile.
Records showed that the phone of the woman was used to send nude images of her to an unknown mobile phone.
Local reports said that the boyfriend called the unknown phone number, and the person who answered the call identified himself as Kuehne, the police officer.
The victim then called a lawyer, who was reported to the incident.
An official investigation was then launched by the Minnesota Bureau of Criminal Apprehension.
The squad video of Kuehne showed him leading the victim to his squad vehicle, as he did, the woman took out her phone and when he saw that, he demanded the woman to give him the smartphone.
Phone records show that the pictures were sent from the phone of the woman. The video showed Kuehne alone in his squad at that time as paramedics treated the woman.
With the help of a search warrant, investigating operators seized the phone of Kuehne and found 3 nude images of the 26-year-old.
The victim told authorities that she did not give the police officer the permission to take a look at her personal images or use her phone.
The police officer did not release a statement about the incident.