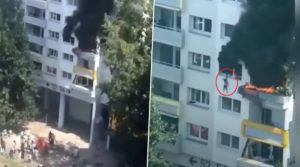 Young Brothers Jump From 3rd Floor Of Burning Building To Save Themselves
2 young children from France survived after they jumped almost 40ft from their burning flat into the arms of rescuers below after their parents locked them inside.
According to reports, the incident happened in the city of Grenoble, France.
Athoumani Walid, a rescuer that is 25 years old, suffered a broken right arm because of the force of the catch.
But despite the fact that he broke his arm, he was seen smiling and heard saying: "We really did save their lives!"
Walid said that he heard the kids shouting in LE Villeneuve district of Grenoble, where he lives.
He rushed towards the fire.
During an interview, he explained what happend:
I saw the two children screaming. They were at the window on the third floor. There was a lot of smoke, flames, explosions, even inside the building. The children were scared. They were crying.
According to witnesses, the oldest of the children was heard shouting that they did not have keys to go out of the house.
He reportedly shouted this multiple times.
After thick black smoke started to pour out from the windows, the 10-year-old boy lowered the younger child out and let him go.
A group of men were on the ground bracing themselves.
Luckily, the men caught both children after the free fall.
The 2 children were unharmed, but they were treated due to the fact that they inhaled black smoke that was emitted by the fire.
Walid and another man that rescued the boys were rushed to the hospital after suffering arm fractures./
An investigation was launched into the cause of the fire and why the parents left their children alone.
The children and the parents were not named, due to legal reasons.
The video of the incident was shared on social media, where it went viral.