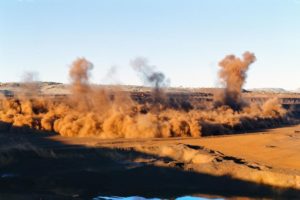 Australian Man With "Explosive" Diarrhea Loses Job After Repeatedly Pooping In Front Of His Colleagues
A man with explosive diarrhea ended up losing his job after he repeatedly pooped in front of his workmates.
The incident happened in Australia earlier this year.
Anthony Lear took a poo in an active work area on the Yandi Mine in Western Australia in March this year.
After getting fired from his job, he launched a fair work claim against his old employer, where he claimed that he was unfairly dismissed.
Lear worked for 7 straight years for the BHP WAIO (Western Australian Iron Ore).
He was sacked earlier this year.
Lear said that there were no toilets on site and he was suffering from explosive diarrhea when the incident happened.
It is said that he pooped on March 9, 2020, down a drill hole and covered it up right away.
A worker noticed Lear dropping a rock down the hole and asked what he was up to, this is where he told the worker that he had defecated.
On the second occasion, he said that he would not be able to last the 8-minute drive to the nearest toilet when he was working on March 27, 2020.
So moved into darkness and told another worker that he was about to "s*** myself, turn around, turn around."
Jack Hughes, a production technician at Yandi Mine, noticed a bad smell and saw that Lear was pooping as he squatted on the floor.
The FWC concluded that the employer had good evidence and reason for kicking out Lear from the job.
Unrelated incidents at work, safety considerations, and health standards played a huge role in the hearing.
WAIO released a statement about the incident, where they said that if a worker could not reach a toilet, he/she should just move away from the site and go to a land in the area.