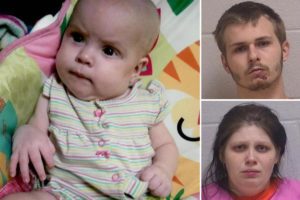 Cockroaches Crawled Over Her: Parents Left Their 7-Month-Old Baby Girl To Die In Dirty Diapers
Evil parents were arrested for leaving their 7-month-old baby daughter to die of hunger in dirty diapers as cockroaches crawled over her.
19-year-old Dustin Harley and 24-year-old Crystal Morrow were initially facing manslaughter charges after the death of their daughter in Arkansas.
Kimberley Fouke, the 7-month-old daughter, died in September 2019 last year.
The charges of the parents were upgraded to second-degree murder after disturbing new court papers claim that the police arrived at the scene on the day Kimberly died.
The police found her unresponsive, her twin brother was in total distress.
The investigating officers said that the crib where the 2 children were sleeping was infested with cockroaches.
The roaches had secreted around the ears, mouth, and nose of Kimberley.
At around 9:15 am on September 27, 2020, Miller County Deputies responded to reports at 3400 blocks of Miller County 9 in reference to infants needing immediate medical attention.
Deputies, EMS personnel, and first responders arrived on the scene to find 2 infants needing immediate care.
The twin of Kimberley was airlifted to a Little Rock hospital for emergency medical treatment.
The twin baby girl was briefly revived by the officers, but she died at the scene.
The mother of the child said that she gave her daughter a bottle of milk at 5 am on the morning of her death.
However, the doctors said that the baby was severely dehydrated and was malnourished.
An autopsy later revealed that the girl was underweight for a child of her age.
The autopsy report of the infant said the girl had sunken eyes, muscle wastage, and protruding ribs.
A doctor at the Arkansas Children's Hospital told officers that any caregiver in the home with the infant boy and his twin would be expected to recognize the child was in need of immediate care.
The parents were arrested in February this year and are currently in jail in lieu of a $50,000 bond.
Since the arrest was made, the twin brother of Kimberley and 3 other kids that were in the room were brought to a foster care home.