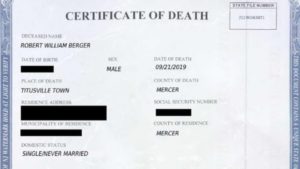 Man Fakes Death To Avoid Jail, Gets Caught Because Of Spelling Mistake In Death Certificate
A Long Island criminal defendant tried to fake his death so he could avoid a jail sentence, but instead, he got caught because of a spelling mistake that was present on the fake death certificate his lawyer had submitted.
The mistake allowed the authorities to know that the entire incident was a fraud.
The news was announced by prosecutors on Tuesday.
25-year-old Robert Berger, who is from Huntington, New York, is now facing up to 4 years in jail if he is convicted guilty in the scheme.
That is in addition to pending sentenced for earlier guilty pleas to charges of possession of a stolen Lexus and attempted grand larceny of a truck.
Berger wanted to avoid the jail time he would have gotten after being proven guilty in the crimes that he had convicted.
Berger was scheduled to be sentenced to 1 year in prison last October on the theft-related charges, however, Berger fled the state.
His lawyer then tried to convince prosecutors and the judge that he had killed himself.
They also used the fiancé of Berger to pass along a fake death certificate.
Initially, the death certificate of Berger looked like a real one that had been issued by the New Jersey Department of Health, Vital Statistics and Registry, but things changed because of a spelling mistake.
The word Registry was spelled as "Regsitry".
Not only that, there were also inconsistencies in the font type and sized.
The real New Jersey Department of Health, Vital Statistics and Registry confirmed that Berger's death certificate was a fake.
Berger was alive, but not well.
After the fraud was found out, he was arrested in suburban Philadelphia on charges that include allegations he provided a false identity to law enforcement and stole from a Catholic college.
He was sentenced in January to spend 1 year in prison.
Nassau County District Attorney Madeline Singas said:
It will never cease to amaze me the lengths some people will go to avoid being held accountable on criminal charges.
On Tuesday this week, Berger was prosecuted because of the coronavirus pandemic.
The man pleaded not guilty to a single count of offering a false instrument for filing.
A judge set bail at $1 but ordered Berger to be placed in jail because of his underlying cases.
His next court date is at July 29, 2020.