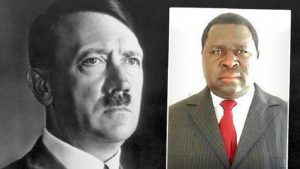 Politician Named Adolf Hitler Wins Election In Namibia
Not that person, but same name.
A politician in Namibia that is named Adolf Hitler has won a seat during the regional election in the country.
Yes, the name is the same, but the person is different.
The politician, who has a complete name of Adolf Hitler Uunona, received 85 percent of the vote in the former German colony.
Hitler said that he has no plans for world domination.
The man won the seat so he could be part of the ruling South West Africa People's Organisation party.
Talking about his name, the man said that he has no plans on doing such things.
He added:
My father named me after this man. He probably didn't understand what Adolf Hitler stood for. As a child I saw it as a totally normal name. Only as a teenager did I understand that this man wanted to conquer the whole world.
The man said that his wife only calls him Adolf.
Talking about what he prefers, the man said that he goes by Adolf Uunona.
The man said that it's too late to change his name.
The man continued:
The fact I have this name does not mean I want to conquer Oshana. It doesn't mean I'm striving for world domination.
It was reported that Uunona won the elections with 1,196 votes.
The opponent only got 213 votes, said a report by MailOnline.
What are your thoughts about the win of Adolf? Let us know what you think about it by leaving a comment in the comments section below!