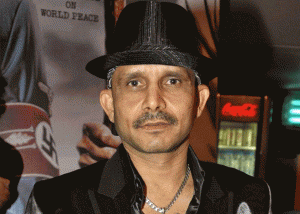 Know Why Sonakshi Sinha Wants To Slap, Hang Kamal R Khan (KRK) And Says He Is Waste of Space On Twitter
Kamal Rashid Khan who has been no more a stranger to be introduced to the users of twitter and ardent followers of Bollywood. Kamal Rashid Khan alias KRK is an Indian film actor, producer and writer who has been indulged mostly in Bhojpuri movies till date. Kamal Rashid Khan is known to ire the biggest of celebrities all over the nation.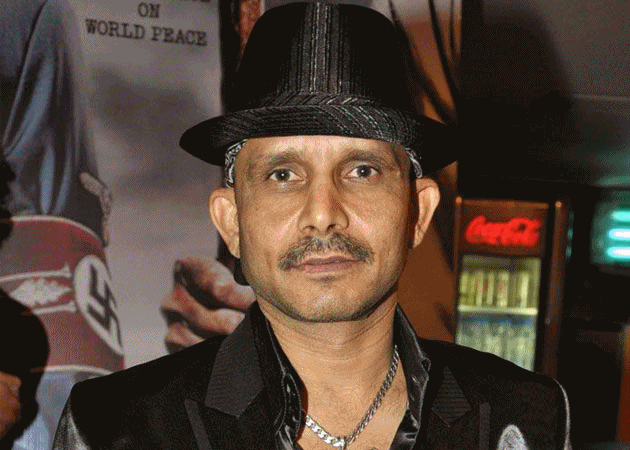 Kamaal Rashid Khan alias KRK has been accused of making derogatory remarks and defamatory remarks against actors and actresses of Indian film industry. Many legal complaints were filed against him due to his irksome and violent remarks hurting the emotions of fellow actors. We guess Kamaal R Khan didn't let anyone in the film industry who hasn't been survived without his disparaging comments. In fact the film fraternity approached the Federation of Western India Cine Employees (FWICE), demanding a complete ban against Khan.
Kamaal R Khan Controversies
Kamaal R Khan is known for making disparaging comments and remarks targeting most of the celebrities. Here are few controversies which had caused defamation to few celebrities. During Indian General Elections 2014, he tweeted that he will leave India if Narendra Modi becomes prime minister of India. On May 18, 2014 he posted a fabricated screenshot of that tweet replacing his name with that of Shahrukh Khan. This sparked controversy as some media outlets didn't investigate and credited the tweet to Shahrukh Khan. Kamaal R Khan made a derogatory remark about the on the day of release of Kochadaiiyaan on 23 May 2014 on Twitter. Khan's post read "I will review #Heropanti on coming Thursday but I will not watch Crap film #Kochadaiiyaan", faced heated replies by fans of Rajinikanth.
KRK Embarrasses Bollywood Actresses For Bot Having Kim Kardashian BIG Butt's
The world is enamored of Kim Kardashian's butt. She revels in it. Paper Magazine today put out photos of that ass-tastic derriere, with the avowed aim to 'break the internet'. KRK has always hit headlines for all the wrong reasons! This time, Sonakshi Sinha took up the baton to speak on behalf of all other Bollywood actresses, giving KRK the royal smack of his life! for making random statements, comments and most times, disrespecting a woman talking lecherously about their body parts.
Kamaal R Khan made the mistake of admiring that vital part of Sinha's anatomy, starting with a tweet on Wednesday: 'which female actor in Bollywood has best butts?' and then being the helpful kind seemingly, or maybe he thinks his fans can see only the frontal part of women clearly, and darkness descends when they see the other half, wrote the names of some actresses who he felt were well endowed in that department, and then for added emphasis, to make no bones of whom he preferred, tweeted: "Pls RT this if you think tat @SonakshiSinha has biggest butt in Bollywood." while he deleted the tweet immediately as soon as the actress countered his tweet.
KRK started the 'Best Bollywood Butt' survey where he posted some disrespectful and distasteful tweets tagging some of the major Bollywood actresses. Kamaal during his usual banter and launched a poll on Twitter asking which female actor in Bollywood has best butts. He wrote many actresses' name including Sonakshi Sinha on Wednesday, He tweeted, "Pls RT this if you think tat @SonakshiSinha has biggest butt in Bollywood.(sic)". The three tweets tagging Parineeti Chopra, Deepika Padukone and mentioning Katrina Kaif left Sona fuming and she, like always decided to take a strong stand for all her contemporaries and for women at large.
Kamaal R Khan's Controversial Tweets On Bollywood Actresses Butt's

Kamaal R Khan's Controversial Tweets On Bollywood Actress Parineeti Chopra's Butts

Kamaal R Khan's Controversial Tweets On Bollywood Actress Deepika Padukone's Butts

 Sonakshi Sinha Lashes Out at KRK, Wants to Give Him '4 Tight Slaps' for Objectifying Women

KRK And Sonakshi Sinha War Of Words
What followed was a war of words between Sona and KRK. The actress posted on twitter, "Please RT this if u think @kamaalrkhan is a woman disrespecting waste of space and deserves to be hung upside down and given 4 tight slaps." Responding to the same KRK posted, "Dear @sonakshisinha Ji I am really sorry if you took it in disrespecting way. It's just a survey to choose sexiest actress of Bollywood. As you @sonakshisinha think tat this survey is a disrespect of woman so you are disqualified n out of competition. Sorry to hurt ur feelings." [sic].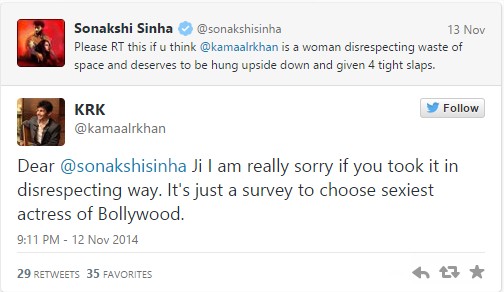 KRK as expected he countered on Twitter yesterday and signed off with a final retort directed at Sonakshi: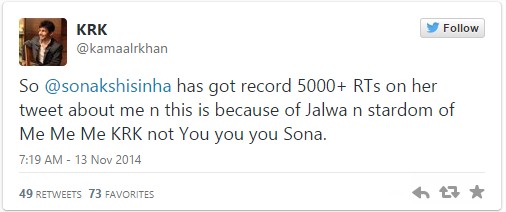 We all know what a douche Kamaal R Khan a.k.a. KRK can be sometimes. Okay, who am I kidding, he's like that all the darn time! But enough is enough! Sonakshi Sinha decided to give him a taste of his own medicine and sent out a clear message that his shit won't be tolerated. While KRK was on an unstoppable twitter rant about butts of certain Indian actresses, Sonakshi decided to show him his right place. Let us hope Kamaal R Khan learnt a good lesson from Sonakshi and won't indulge in passing controversial comments on twitter anymore.