Indian Cricketer Virat Kohli Lookalike Found At 3rd Test Match In Audience
We've heard of countless celebrity lookalikes. But these guys just take the cake. Remember the guy who looks alike Indian test captain Virat Kohli. He has been found once again on the third day of the 3rd test match between India and New zealand at Indore.
As they flashed the man on the big screen a big roar erupted around the stadium. It was none other than Indian captain Virat Kohli. Or was it him?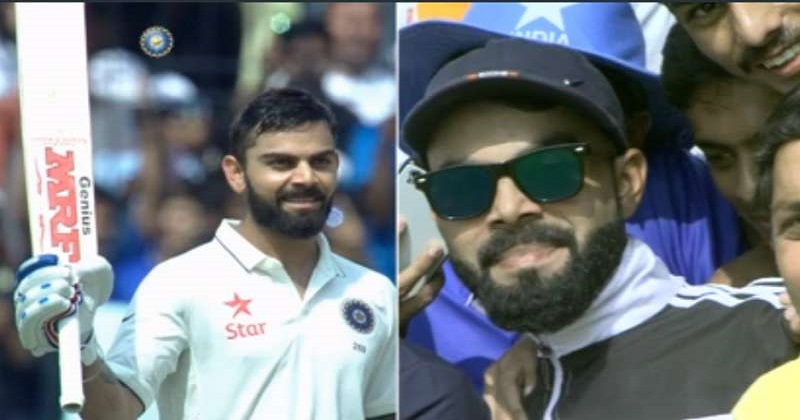 Sanjay Manjrekar, who was at the commentary box perhaps also mistook the lookalike to be Kohli and started off by saying," It's really great to see him go to the stand immediately after the double hundred to meet the fans. You've got to appreciate this. You know what. This is what makes him special."
His co-commentator Ravi Shastri chose to hold back his words for a while and when he found it wasn't the Indian skipper, he broke out in laughter saying,"Look at the selfies. They all think that it is Virat Kohli."
This guy resembles a lot like Kohli. There is no doubt about it. The face, beard everything is remarkably very close to Kohli. He is wearing the cap the Kohli wears usually. The sunglasses are the same which Kohli wears. People were so much obsessed by this lookalike that they were clicking selfies with him.
Even when this guy was shown on the big screen, Kohli saw him as well. The reaction on the face of Indian skipper were of full amusement. He was literally stunned to see his own look alike. Again it was the cunning resemblance which even made Kohli astonished. But then this guy was stopped from entering the stadium.
Watch The Video Here:
It's the kind of acknowledgment movie stars crave for, when they get to the point of thinking they've arrived. It's the kind of experience that made Shah Rukh Khan make a movie. In Indian sports, it's the kind of stardom only Sachin Tendulkar enjoyed.
The young Virat Kohli fan, in doing what he did, gave the Indian cricket captain's immense popularity a fillip on similar lines. Irony made this happen on a day when Kohli was busy scripting yet another chapter in his stardom. Perhaps his finest yet.
Several Virat Kohli Look-Alikes That Will Catch Your Attention!
Here's a Virat Kohli lookalike from across the border.
This is not the first time that a Kohli lookalike has popped up. If you google Virat Kohli 'duplicates' you are likely to get around 10 people who exactly look like the Indian skipper.
Even Pakistan cricketer Ahmed Shehzad was being compared to Kohli in the social media a few days back because of their resemblance.
Everybody wants to look like Virat. Here's another one called Prince !
While he was batting a cameraman spotted his lookalike in the stands and as expected, showed him on the screen for quite some time. This shocked Kohli's fan and they soon went out of control to have a glimpse of their beloved cricketer's doppelganger.
The man, identified as Prince, has an uncanny resemblance with the Indian captain's looks and in order to avoid any accident, the Police asked him to leave the stadium.